Computing Support Director and Guru, Jim Hogan, Retires After 15-year Tenure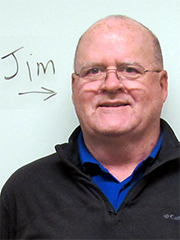 by Letty Limbach
Prior to his retirement from the UW Department of Environmental and Occupational Health Sciences (DEOHS) on May 31st, Jim Hogan had been at the helm of DEOHS's Computing Support team for 15 years.  His impact on the department, personnel, and infrastructure, will continue to make their mark for years to come.  When I interviewed Jim, I wanted to figure out what brought him to DEOHS.  It turns out that Jim's journey into tech and ultimately, to DEOHS, was far from typical and full of detours and winding roads.
Jim's childhood sounds like something out of a children's fable.  His father was a Ship's Captain who ultimately went around the world 26 times, while Jim grew up in a suburb outside of Boston with his mother and five sisters, four older, one younger. 
Jim eventually joined the U.S. Army and specialized in psychiatric care.  While working as a Psychiatric Corpsman on a drug detox unit for three years, Jim was stationed in Georgia, Oklahoma, and Germany.  "It was nice to be out of the country.  I hitchhiked to Scotland, and took the train from Frankfurt into Paris to stay for Bastille Day weekend."  It was here that Jim fell in love with traveling, a theme that would come up repeatedly throughout his life.
After ending his term in the U.S. Army, Jim decided to apply the skills he'd learned in a new setting: as a nurse in the emergency room at a Boston hospital. 
Many people are surprised to hear that Jim used to be a nurse.  For Jim, it was about helping people.  "I like hospitals, I like the general ethos - saving lives once in a while, and doing something that has a value to society.  I also liked being a bit of the renaissance man and bucking gender role stereotypes."  After receiving his Nursing degree at Boston University, Jim got a job at a Harvard teaching hospital, first on the medical floor, then in the ICU.
After five years, he went to work as a research nurse on an epidemiological study at Boston University. Using his college tuition waiver, Jim earned a Master's of Public Health in Biostatistics and Epidemiology.  The Master's program had a computing course as well a Prime Mini Computer that was the size of a small room.  The Prime Mini was the first computer Jim ever worked with and he credits this experience as key to landing his first job in the Pacific Northwest. 
He had already fallen in love with the Seattle region after multiple backpacking trips to the area.  "I was just agog.  At the mountains, mostly - the Cascades, the Olympics - and all the boats."  His first job was with the Communicable Diseases and Epidemiology Division at King County Public Health.  While there, Jim created an application to replace the way they tracked cases - from paper and pencil to a digital database.  The application is still in use today (with some updates).
After networking fourteen health centers and creating a pediatric database for immunizations, Jim left King County to focus on tech, though he "always managed to keep a little healthcare in there."  When the tech bubble burst, Jim travelled to New Zealand and Ireland while looking for a new job back in Seattle.
Jim accepted a position in the UW School of Public Health Department of Biostatistics, joining the team during an important IT leadership transition. After helping Biostatistics strengthen and stabilize its computing support services, Jim was ready for a new challenge. One was waiting in the form of the DEOHS Director of Computing Support – a new position with plenty of problems to solve.
"I came over to the department's Roosevelt location, and had an informal talk with Adrienne, who was joined by 15 other people with lots to say and questions to ask.  The crux of the conversation revolved around the rapidly changing field of IT technology, higher education and research and how the department needed to catch up on multiple fronts. After Jim accepted the position, he started to revamp the existing computing infrastructure and work towards a more customer-oriented approach.  His first hire?  Brian High.
"Brian and I tag-teamed on a lot of things.  With Brian as the technical lead, I was his backup."  Then Elliot Norwood joined the team with a focus on desktop support, followed by John Yocum, another highly skilled IT staff member, a few years later.  Jim calls them "the Gents" and he noted that working with them has been the most rewarding part of his job. 
"I feel real satisfaction with how things have worked with the team.  I feel very fortunate...What motivates me is having three gents who are happy with their jobs."  The deep respect he has for his colleagues' technical expertise and ability to interface with customers shows clearly in the kudos he gave them repeatedly during the interview.
The Gents feel the same way about Jim.  "As a manager, Jim doesn't micro-manage, which allows for a degree of freedom in solving problems, projects, etc. He's more focused on trying to make the job fun, and helping people succeed rather than telling them how to do things," says John.  Brian talks about Jim's sense of humor and his skill with people: "Whether it's a technical problem or a pressing deadline, he puts you at ease.  We'll work together and we'll figure it out."
Brian also gives a lot of credit to Jim's recruitment process: "One thing that people say they are really happy about Jim's work is his good hiring. I was able to see that on both sides."
Another aspect of his work that Jim found rewarding was infrastructure development. 
IT infrastructure, like so many other things related to computing support, is one of those areas that's invisible when everything's going right, and very visible if something goes wrong.  Over his tenure at DEOHS, Jim oversaw and pushed through numerous infrastructure improvements so things go right as much of the time as possible: re-cabling most of the offices at Roosevelt and HSB, overseeing network upgrades, and building out a "fantastic server room."
Brian offered a bit of insight into the extent of Jim's contribution to the department's infrastructure: "When Jim came to the department, he set up the beginnings of the server infrastructure that we have today: storage, authentication, and intranet (Portal). 
This storage appliance was our department's first general-purpose file storage system. Combining that with the Windows Domain Controller allowed him to set up a system where you can login to any workstation and get the same experience (desktop, settings, files, etc.,). Before that, there was no centralized domain in our department and no centralized, shared storage. We still use this same type of system today, but with newer hardware and upgraded technology. This gives us shared project folders with group-permissions."
Jim can also be credited with guiding the department towards the use of open-source software. Their benefits are two-pronged: not only do you avoid unnecessary expenses, you have greater control of your own materials and processes. As Jim says, "You don't have to call an 800 number and talk to a vendor to get small changes made."  Drupal is one of those open-source tools that he championed.  It is now central to our digital communications strategy.
Overall, Jim is very grateful for the time he spent at DEOHS: "It's a really cool department.  I don't think anybody else in our school or other schools has a staff recognition brunch.  It's also down to earth, more of an active academic setting.  There's a direct line between the work and the people our department is helping."
His post-retirement plans?  Keep travelling for one. "It's a nice change of pace.  I like feeling like I'm on a different planet sometimes.  And people are remarkably generous and hospitable."  His favorite country to visit is France but he's planning an extended trip to Nicaragua at the end of the year to scope out a place he could rent annually during Seattle's wet winters. 
He also plans to spend more time on his boat, the Helen P, which also serves as his home.  Jim named his boat after his favorite aunt, a nurse operating room chief who worked at the same university where Jim had worked.  "She was feared and loved in the same breath, and even has a conference room named after her, with a portrait.  Her famous dictum was, 'There ain't no pockets in shrouds," and she was very much, let's eat, drink, and be merry today."  Once he's completed some repairs on the Helen P., he's hoping to spend part of each summer in the Gulf Islands.
Summers sailing in the Gulf Islands and winters in Nicaragua sounds like a wonderful way to spend retirement and we in the department wish Jim much merriment and all the best!