Return to Spring/Summer 2013 issue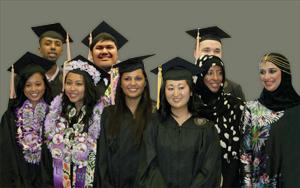 2013 Bachelor of Science Graduates. Front row, l to r: Grace Liao, Julie Leano, Jennifer Singh, Momoka Nakamura, Roda Mohamed, Dareen Qalfat; back row, l to r: Mohamed Abdillahi, Martin Estira, Nicholas Larned.
Photo:
Sarah Fish.
Recognition Ceremony
On June 14, nearly 50 students were recognized at the department's graduation ceremony, 64 years after the first class of Sanitary Science majors received their diplomas in 1949. Our department has the longest running degree program in the School of Public Health.
Chair David Kalman welcomed the graduates, their families, and other attendees as well as recognized students who received awards.
Two students gave program addresses. Grace Liao (BS) urged fellow graduates to think of the impact they can make beyond family and friends, on a larger community. "Our sphere of influence is limitless," she said. Vanessa Galaviz (PhD) persuaded graduates to use their knowledge and skills to better serve and engage others in their communities. "We can help create a passion in others. It drives public health," said Galaviz.
Finally, alumnus Matthew Keifer (MPH, Occupational Medicine, 1989) gave the keynote address. He now directs the National Farm Medicine Center at the Marshfield Clinic in Wisconsin. Keifer remains an affiliate faculty in our department where he was a faculty member for 19 years. He talked about the difficult, but important work graduates face in protecting human health. He cautioned that the "truth" may not please everyone. "The profession does not come with the expectation to please," Keifer said. Instead, part of their "job description" will be "to get as close to the truth" as they can with their skills and training, he explained.
Degrees Awarded
Autumn 2012
Jenna Armstrong, PhD
Nicholas Clark, MS
Jesse Port, PhD
Winter 2013
Cody Cullison, MS
Angel Ip, MS
Grace Liao, BS
Chenye Liu, BS
Spring 2013
Lyndsey Banks, MS
Ryan Blood, PhD
Rin Chung, BS
Ling Cui, PhD
Lea Duffin, MS
Martin Estira, BS
Anna Fretheim, BS
Ara Jo, BS
Hee Yeon Kim, MS
Nicholas Larned, BS
Amy Leang, MS
Julie Leano, BS
John Linnett, MPH
Eyob Mazengia, PhD
Wendy Miklos, MPH
Toluwalose Okitika, MPH
Laura Okocha, BS
Dareen Qalfat, BS
Jill Schulte, MPH
Jessica Youngblood, MS
Summer 2013
Mohamed Abdillahi, BS
Tania Busch-Isaksen, PhD
Andrew Forbes, MS
Vanessa Galaviz, PhD
Molly Halverson, MS
My-Dung Le, BS
Amber Lenhart, MPH
Salifu Mansaray, BS
Roda Mohamed, BS
Momoka Nakamura, BS
Julie Park, MS
Daniella Pizzurro, PhD
Pamela Roqué, PhD
Gurpinder Singh, BS
Jennifer Singh, BS
Abigail Sutphen, MS