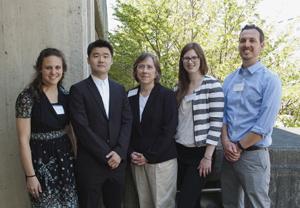 (left to right) Kat Gregersen, Stephen Cho, Catherine Tamaro, Joemy Ramsay, Trevor Peckham.
Photo:
Sarah Fish
Our master's degree students lead research studies with the help and under the supervision of our faculty. The following briefs, written by each of the following students, summarize the research he or she presented in May 2015 at our department's Graduate Student Research Day. The faculty advisors listed are in our department unless otherwise noted.
Sleep Apnea in Obese and Non-Obese Patients
Obstructive sleep apnea (OSA) is a disorder in which breath is interrupted during sleep because the airway is blocked by the involuntary collapsing of soft tissue in the rear of the throat. Without treatment, it can lead to other serious health problems. Because both obese and non-obese patients have the condition, Stephen Cho (MPH, Occupational and Environmental Medicine) analyzed polysomnography records from a military center to investigate differences. He found arousals or the interruption of sleep occurred in non-obese patients without a significant drop in oxygen levels. This was in contrast to what was seen in obese patients: the more times the airway was obstructed during sleep, the further oxygen levels dropped. Advisors: Gregory Martin (Madigan Medical Center), Debra Cherry.
Cost-Effectiveness of Vibration-Reducing Driver Seats in Buses

Low back pain (LBP), which has been associated with exposure to whole body vibration (WBV), is a leading cause of bus driver disability and a large component of King County Metro's workers' compensation costs. Kat Gregersen's (MPH, Environmental and Occupational Health) analysis revealed that seats that reduce WBV exposures would be a cost-effective method to reduce LBP in Metro bus drivers. Advisor: Peter Johnson.
Assessing Dermal Exposure to Soil Contaminant
Risks to human health from contaminated soil factor into clean-up-related decisions at hazardous waste sites. Trevor Peckham (MS, Environmental Health/MPA) investigated the potential for dermal exposure of a carcinogenic combustion byproduct commonly found in soil. His research aimed to improve risk assessment guidance and remedial decisions at contaminated sites. Advisor: John Kissel.
Miners and Biomarker of Diesel Exposure
Exposure to diesel exhaust could cause many health problems such as cancer, respiratory, and cardiovascular illnesses. 1-Nitropyrene (1-NP) is a chemical found in diesel exhaust and its metabolites can be measured in urine. In order to measure the amount of diesel exhaust that workers in a mine were exposed to, Joemy Ramsay (MS, Occupational and Environmental Exposure Science) looked at the use of these metabolites as biological markers for diesel exhaust. She found metabolite levels to be associated with exposure to 1-NP. Advisor: Christopher Simpson.
More Pesticide Residues Found in Farmworker Homes
Agricultural growers use pesticides regularly to protect crops and trees.  Farmworkers may be transporting pesticide residues on their work clothing into their homes, which may in turn, expose their families to pesticides. Catherine Tamaro (MS, Environmental Toxicology) analyzed home dust sampling data from the Yakima Valley and found more pesticide residues in the house dust of farmworkers than non-farmworkers. Small children are especially likely to come into contact with household dust due to their play habits. Advisor: Elaine Faustman.