Return to 2016, Issue #2 issue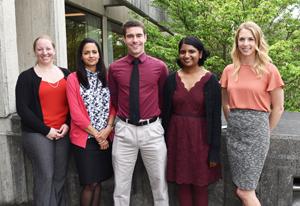 (left to right): Brianne Duncan, Divya Ravi, Maximilian Chmielinski, Shilpa Gowda, Carly Wilder.
Photo:
Sarah Fish.
Our master's degree students lead research studies with the help and under the supervision of our faculty. The briefs are written by the second-year master's degree student leading the research. These students presented in May 2016 at our department's Graduate Student Research Day. The faculty advisors listed are in our department unless otherwise noted.
Assessment of a Organ-Like, Testis 3D Cell Culture Exposed to Cadmium
Carly Wilder (MS, Toxicology)
In recent decades, male reproductive health and fertility problems have increased. Some suspect these problems stem from exposure to chemicals during critical periods of testicular development. Carly Wilder optimized a new in vitro system that could screen chemicals for potential health impacts. It is a 3D cell culture that models male reproductive development. Wilder also created a framework for which to interpret and extrapolate data for human risk assessment. Using mouse cells exposed to cadmium (a toxic metal in industrial workplaces), she found the organotypic model could accurately demonstrate adverse effects of the exposure when testicular cells were most susceptible. Advisor: Elaine Faustman.
UV and Blue Light Exposure and Marijuana Growing Facilities
Maximilian Chmielinski (MS, Occupational and Environmental Exposure Science)
Indoor cannabis-growing facilities use high-intensity lights to stimulate plant growth.  In some cases, employees may work within 50 cm of the bulbs, which emit ultraviolet and blue light radiation.  Prolonged exposure can cause harm to eyes and skin.  To find out if workers were overexposed, Maximilian Chmielinski developed monitoring methods to assess light intensities and occupational exposures. His results from two cannabis production facilities revealed that without personal protective eyewear or other workplace controls, light intensities may exceed recommended safe exposure levels.  Advisor: Edmund Seto.
Air Pollution and Lung Cancer Risk
Shilpa Gowda (MPH, Occupational and Environmental Medicine)
The World Health Organization's International Agency for Research on Cancer concluded in 2013 that exposure to outdoor air pollution and particulate matter causes lung cancer.  Shilpa Gowda investigated this association in older women using data collected from the Women's Health Initiative Observational Cohort that included nearly 90,000 postmenopausal women. Gowda estimated exposures to two components of outdoor air pollution: fine particulate matter and nitrogen dioxide, based  on the participants' residential addresses and proximity to highways.  Her results did not show associations between these measures and risk of lung cancer. Advisor: Joel Kaufman, Parveen Bhatti (Epidemiology).
Prenatal Diesel Exhaust Exposures and Antioxidant Supplements in Cardiovascular Disease
Divya Ravi (MPH, Environmental and Occupational Health)

Exposure to air pollution—specifically, fine particulate matter from diesel exhaust emissions--has been linked with cardiovascular disease. In addition, environmental stressors during fetal development have been shown to influence adult-onset disease. The molecular mechanisms leading to disease later in life remain unclear. Divya Ravi investigated the association between in utero diesel exhaust exposure, antioxidant supplementation in pregnant mice, and changes in the arterial walls of the offspring. She found early atherosclerotic changes in the innominate arteries of the offspring exposed to diesel exhaust in utero, but her results on the effects of the antioxidant were inconclusive. Advisor: Michael Rosenfeld.