Return to 2016, Issue #2 issue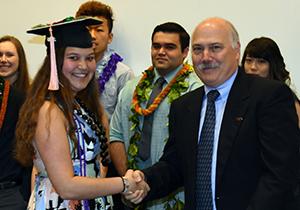 Chair Michael Yost congratulates Maggie Yaddof, who graduates with a Bachelor of Science degree.
Photo:
Sarah Fish.
We celebrated our department's graduates on Friday, June 10, 2016. The ceremony was held in Foege Auditorium, and followed by a reception.

Among the graduating class were 23 students earning BS degrees, 11 earning MS degrees, 5 earning MPH degrees, and 7 earning PhD degrees.

Professor and Chair Michael Yost was the master of ceremonies. Professor Scott Meschke, who is the Undergraduate Program Coordinator, read the names of the undergraduates, and Professor Richard Fenske, who is the Graduate Program Coordinator, read the list of graduate students. Meschke and Fenkse also read the graduates' own brief statements, which often thanked family, friends, peers, faculty, and staff.

At the ceremony, PhD students Anna Engstrom and Karen Michael presented gifts from the Graduate Student Advisory Committee to honor Graduate Program Manager Rory Murphy for her service and dedication to students in the department since 1999. She retired this summer.

Undergraduate Jared Toba was chosen by his peers to give the Undergraduate Program Address. "Our schooling has prepared us well," he said, speaking of the skills learned and the experiences that will help students in the next chapter of their career. He returns to Hawaii to enter a program in pharmacy.

PhD student Karen Michael was chosen by the graduate students to give the Graduate Program Address. She said that this milestone for graduates bestows a credential, for sure. But more than that--the degree denotes what you've learned and the skills you now possess.

Sara Mar, a junior majoring in Environmental Health, received the Jack Hatlen Scholarship, presented by Chair Michael Yost. Professor Terry Kavanagh received the Outstanding Faculty Mentor Award from Graduate Student Advisory Committee representatives: PhD students Brittany Weldon, David Scoville, and Christopher Schaupp.

Affiliate Professor Steven Gilbert gave the keynote address. Read his speech called "Walls - What Are They Good For?" Gilbert is a diplomat of the American Board of Toxicology and the founder and director of the Institute of Neurotoxicology and Neurological Disorders. "We need more bridges, not more walls," he said. He urged graduates to "tear down walls of ignorance and apathy." He founded Toxipedia to put science in context and give people tools to break down walls that prevented their access to information about common chemicals.

Some of the previous keynote addresses have been given by Robert Spear, professor of public health in the Division of Environmental Health Sciences at the University of California, Berkeley; Robert Duff, senior policy advisor to Governor Jay Inslee on natural resource and environmental issues; and Matthew Keifer, an affiliate faculty member who at the time of his address directed the National Farm Medicine Center at the Marshfield Clinic.

View photos of the event.
Students Recognized
Degree Key:
Environmental Health (EH)

Environmental Toxicology (ET)

Environmental and Occupational Health (EOH)

Environmental and Occupational Hygiene (EOHy)

Occupational and Environmental Medicine (OEM)
Doctor of Philosophy
Megan Cartwright, ET
Anna Engstrom, ET
Karen Michael, EOHy
Jane Pouzou, EOHy
Boris Reiss, EOHy
Ian Stanaway, ET
Brittany Weldon, ET
Master of Public Health
Victoria Balta, EOH
Shilpa Gowda, OEM
Thomas Louwers, OEM
Divya Ravi, EOH
Jane Vaccaro, EOH
Master of Science
Maximilian Chmielinski, ES
Joe DeLauter, ES
Brianne Duncan, EH
Jeron Jacobson, ES
Jenny Lohmiller, EH
Anna Norte, ES
Oteri Oghoghomeh, ES
Rebekah Petroff, ET
Grant Quiller, ES
Catherine Tamaro, ET
Carly Wilder, ET
Bachelor of Science
Elizabeth Anderson, EH
Gagandeep Bhandal, EH
Claire Chisholm, EH
Bethel Demeke, EH
Tung Diep, EH
Darian Disrud, EH
Halley Flake, EH
Joanna Harrison, EH
Peter He, EH
Manaola Hewett, EH
Charlene Hsia, EH
Dapinder Jourha, EH
Jungyun Kim, EH
Danielle Landry, EH
Kyoyi Lee, EH
Shume Merid, EH
Benjamin Park, EH
Curtis Rodgers, EH
Carolyn Sun, EH
Kristen Tatsuno, EH
Jared Toba, EH
Vy Tran, EH
Danh Vo, EH
Maggie Yaddof, EH