Return to 2016, Issue #2 issue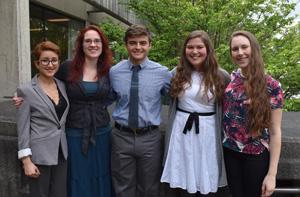 (left to right): Niloufar Ghodsian, Claire Chisholm, Ryan Kouchakji, Maggie Yaddof, and Joanna Harrison.
Photo:
Sarah Fish.
Our undergraduates conduct research with the help and under the supervision of our faculty and graduate students. The following briefs, written by undergraduate students majoring in Environmental Health, summarize the research he or she presented in May at the School of Public Health's Undergraduate Symposium or the UW Undergraduate Research Symposium. The research advisors listed are in our department unless otherwise noted.
Health Disparities and Environment Health Policy and Practice
Ryan Kouchakji
People living in homelessness are vulnerable to the environment, according to the numerous studies Ryan Kouchakji's reviewed. Compared to the general population, those who are homeless have increased exposure to the elements, vector-borne diseases, violence and injury, and chemical dependency.  Kouchakji's interest in the subject was influenced by his volunteer experience at ROOTS, a homeless shelter for youth, and his work as an emergency medical technician. (Charles Treser)
Role of Antioxidants in Cell Health
Claire Chisholm
Claire Chisholm's research focused on understanding the enzymes in our body that help detoxify damaging reactive chemicals. Glutathione and the enzymes that make it play a large role in regulating the internal health of cells, particularly in the liver. It seems their role may also involve direct interactions with cellular proteins and substrate-specific binding under different levels of cell stress. (Terrance Kavanagh)
Wildland Firefighters and Exposures
Niloufar Ghodsian
Wildland firefighters are exposed to various combustion products including polycyclic aromatic hydrocarbons (PAHs). Many PAHs are carcinogens that undergo metabolism and are excreted in urine. Niloufar Ghodsian helped develop a method to measure PAH metabolites in urine to determine the risk of exposure in wildland firefighters. (Christopher Simpson)
Injury and Illness Among Low-Wage Earners
Vy Tran
Low wage jobs are often structured in ways that expose workers to dangerous and stressful environments. By assessing the differential health status and conditions faced at work, while incorporating non-work psychosocial stressors, Vy's research with the Seixas lab aims to provide a more holistic understanding of the driving forces behind workplace injury and poor health among low-wage workers. (Noah Sexias)