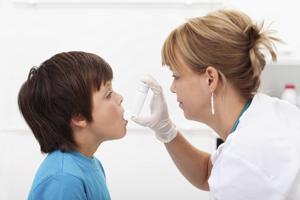 Asthma affects nearly 106,000 children in Washington state, with close to 5,000 in Yakima county. Researchers are investigating air pollution in an agricultural community in Yakima and its impact on kids with asthma.
Photo:
ilona75/iStock/Thinkstock
Air pollution tends to be thought of as an urban problem, not as an issue for agricultural areas, such as those in eastern Washington. Very little research exists about the health impacts of air pollution on communities around industrial-scale farming operations. Catherine Karr, an associate professor of pediatrics and environmental and occupational health sciences at the University of Washington, hopes to change that. Working with a farming community and local organizations, she is investigating air pollution in the Yakima Valley and how it may affect children who suffer from asthma.
This chronic disease affects nearly 106,000 children in Washington state, with close to 5,000 in Yakima county, according to estimates by the American Lung Association. Asthma causes inflammation and narrowing of the breathing air passages, which limits the amount of oxygen delivered to the lungs. Wheezing, coughing, tiredness, and shortness of breath are some of the symptoms. Without treatment, an asthma attack can lead to an emergency room visit or hospitalization.
Concerned families and local health educators and providers turned to researchers in our department to find out if air pollution might be part of the asthma problem in Yakima.
Karr and colleagues gathered daily data on fine particulate matter from a monitoring station operated by the Yakima Regional Clean Air Agency. But they also needed to discover exactly what was in the air. Previous studies on urban air pollution point to traffic emissions as a primary component. Sources of pollution may look different in places like the Yakima Valley, speculated the researchers.
Yakima and Toppenish are small towns with big industry. Tree fruit. Dairy. Beef. Wheat. All of these can contribute to air pollution in different ways. Farmers protect rows and rows of apple trees with pesticides. Tractors harvesting wheat churn up dust clouds. Trucks carrying corn and beans run on diesel and drive on dusty country roads.
Michael Yost, professor and chair of our department, and others designed an air monitoring device that isolated specific contaminants in the air. Every six days the device ran around the clock and collected samples of air that could be used to measure pollen, pesticides, dust, endotoxin (a component of certain bacteria that can cause an immune-system response), and ammonia emitted by animal waste.
Fourteen devices were placed at homes in the community and used to create a "map" of pollutant levels for all of the 58 children enrolled in the study.
Nearly all of the children were Hispanic, with median household income below $30,000. For two years health data on their lung function was measured daily using a special instrument, and control of asthma symptoms was assessed every two weeks in a phone survey. Annually, the kids' lung function was also tested by health providers.
Only 26% of the children had consistently "well-controlled" asthma, based on reported symptoms and medication use. Yet, over the course of the study, all of the children improved.
"I think this reflects that kids and their caregivers in this study had a community health worker paying close attention to the child's asthma status and received helpful education on managing their disease," said Karr. Most people, however, "don't have control over air pollution outside in their community or even in their yards," she added. "This study can help facilitate more attention to the problems and motivate solutions."
Karr said initial findings showed evidence of more asthma symptoms and worse lung function following higher air pollution days. While she is in the process of publishing these findings, she is also evaluating one solution. She recently received a $2.5 million grant from the National Institute of Environmental Health Sciences to examine the effectiveness of high efficiency particulate air (HEPA) purifiers in the homes of these children.
These studies are part of the El Proyecto Bienestar (The Well-Being Project), funded by the National Institutes of Health, which brings Hispanic agricultural workers and local organizations together with researchers to address the occupational and environmental health risks the workers and their families face. Others involved include Christine Loftus (PhD, Epidemiology, 2014) and other researchers in our Pacific Northwest Agricultural Safety and Health Center, Heritage University, Yakima Valley Farm Workers Clinic, and the Northwest Community Action Center, which includes Radio KDNA.