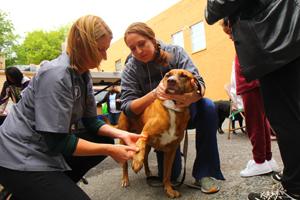 Lara Kreyenhagen and Janna O'Connor give veterinary care to Bailey, one of the pets participating in Feel Good Day.
Photo:
Gemina Garland-Lewis.
The sky is mostly gray, but the mood in the alley feels festive. Opposite smelly, giant trash dumpsters are three men, who sit serenely, wearing barber's capes while their hair is combed and buzzed dandy. A proudly groomed toweled dry client bounds out of The Dog Lover Mobile Grooming van parked nearby.
 

Then there's Lady. She sits politely in front of one of the animal doctors. She has just gotten a rabies vaccine, and now waits expectantly for her reward: a dog treat. Lady is half Labrador Retriever and half plain adorable. Josh Bell, her owner, accepts Lady's new pink ID tag and some dog food. No one can resist an ear scratch or three, not the volunteers, not the veterinarians, not those who are being served at the Facing Homelessness Feel Good Day September 4 in Seattle's University District.
 

The semi-annual event for people experiencing homelessness provides haircuts, massage therapy, foot care, shoes and other basic personal services at no charge. This year, for the first time, their pets received free services, too. Gemina Garland-Lewis, research coordinator at the Center for One Health Research, helped arrange the animal-care side of the event.
 

The Center for One Health Research in the Departments of Environmental and Occupational Health Sciences and Global Health explores the interconnectedness of people, animals and environment. Among its community efforts, Garland-Lewis said, the Center is networking with both human health and animal health providers toward creating a shared clinic, where pets and their owners who are homeless or low-income can get care, all in the same place.
 

Garland-Lewis is leading an independent photo project that will tell the stories of people who are homeless and own animals. She wants to convey in images what statistics can't: that the human-animal bond is powerful and that a person's pet can be his or her best friend. The project supports the Center's goals to help develop a shared clinic.
 

Bell recalls how Lady helped him turn his life around. When you live on the streets, Bell explains, others will sell you drugs and maybe give you a place to sleep. But his only friend, the only one he could trust, was Lady.  They took care of each other.  But he almost lost her when he was jailed. The cops who arrested him took Lady to the Humane Society, from where he eventually got her back. The possibility of not having Lady by his side convinced him to change and to become sober.
 

Margie Quinn, the program manager for Facing Homelessness, and who organizes the semi-annual event, said she was excited for Garland-Lewis's collaboration.
 

"Today is a testament to how much we need to take of people and their pets," she said. She said they hear about the need, the discrimination against animals in shelters, and the stigma associated with those caring for animals. Critics ask, How can they take care of a pet if they can't take care of themselves?
 

"The animal," she explained, "is a source of healing and safety. It lowers stress and anxiety."