Return to 2017, Issue #2 issue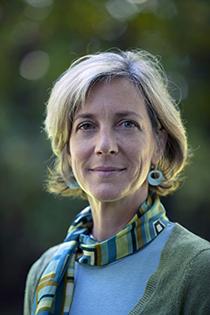 Professor Catherine Karr.
Photo:
courtesy of Catherine Karr.
Catherine Karr is a professor of pediatrics in the UW School of Medicine and of Environmental and Occupational Health Sciences in the UW School of Public Health. Earlier this year, she won one of only 102 Presidential Early Career Awards given by the White House.
Karr was nominated for her community-engaged approach to studying environmental contaminants and the impact on children's health – especially asthma. She has two ongoing community projects in the Yakima Valley of eastern Washington.
One of her studies is an intervention project. It probes whether portable air cleaners in the home help children with asthma above and beyond a state-of-the-art asthma education program conducted by the Yakima Valley Farm Workers Clinic (YVFWC).
Winning the award is an honor that reinforces the value of this kind of research built with strong community partners. "I feel like working with communities to respond to their priority concerns should be an important part of our national research portfolio. But it requires a commitment to taking the time to develop and maintain collaborative relationships. Having a national award recognize this type of research is terrific and hopefully will encourage others," Karr said.
Besides YVFWC, the Northwest Communities Education Center/Radio KDNA and Heritage University are core community partners with staff that work with the UW team to conduct studies in the Yakima Valley. More than 50 families (out of a goal of 75) have been enrolled in the intervention study. Each subject receives an assessment of both air quality in their home and their asthma health risk over a study year. The project focuses on families living within 400 meters of crop or animal agriculture, both of which may be sources of dust and other contaminants. "We know air quality impacts urban kids with asthma, but research on air quality and asthma in rural U.S. settings has not received sufficient attention", Karr said.
Karr also sees patients at the UW-Roosevelt Pediatric Care center. If the latest study shows air cleaners reduce the number of poor health days for asthma patients, she imagines them becoming something physicians could prescribe and patients could have reimbursed.
Seeing her own patients, informs her research, she said. "It helps me make connections between issues families face in ensuring their child's health, at the individual level and broader community level".