Return to 2017, Issue #2 issue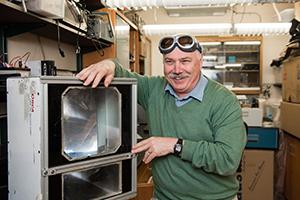 Michael Yost with an Orca LRS-50 Aerosol LIDAR (Light Detection And Ranging) he customized to better measure aerosol density over a section of sky.
Photo:
Elizar Mercado
Summer is an interesting period for those of us in academia. It is a time to both look back at the past academic year and to look forward to the year to come. In June, we celebrated the graduation of our undergraduate and graduate students. As faculty members, we strive to ensure our students are prepared to launch their careers as they accept their diplomas and continue on the next leg of their journey. As I shook the hands of the DEOHS cohort of '17 I had no doubt that these students were the future leaders of public health. Whether they decided to continue their education with us and apply to one of our graduate programs, or they accepted a leadership position in a national trade association, I am certain that these students will have a profound impact on the public health of our communities. This could not have been possible without the hard work of our students, the dedication of our faculty and staff, and the support from you, our friends and alum—everyone deserves a big thank you. 
After graduation, the halls around UW tend to be more quiet and sparse. Most students have left for the summer and many faculty members take a well-earned vacation. However, the work is never done. The next cohort is arriving at UW in September and faculty and staff are busy preparing to ensure a smooth transition. Although good byes are difficult, I am always excited about meeting the next round of students. Each cohort brings fascinating backgrounds, interests, and ideas to our department and we start the whole process over again. 
Even with all the ebbs and flows of academia, there are some things that are constants. Rick Gleason is one of them. For over two decades Rick has provided instruction and mentorship derived from his professional expertise in workplace safety. Many of you will well know Rick and his perpetual positivity. This past year the University of Washington awarded him the Distinguished Contributions to Lifelong Learning Award in recognition of Rick's dedication and passion. I can think of no other who embodies the spirit of this award and deserves this recognition more than Rick. He is one of the examples of why this department has continued to impact communities for 70 years. 
With the successes of our graduates, staff, and faculty of last year, I am excited for what is next. As this next academic year approaches, please join me in continuing to celebrate DEOHS's 70th year of creating healthy, safe, and sustainable communities and workplaces. 
Warm Regards, 
Mike Yost