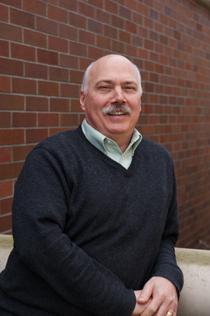 Michael Yost.
Photo:
Mary Levin.
We are enormously proud of our undergraduate and graduate students in the department for their hard work and their achievements.
Our department offers BS, MS, MPH, and PhD degrees, and while our degree programs are heavily interdisciplinary, our students focus their study on one of the following disciplines: environmental health, exposure science, occupational and environmental medicine, and environmental toxicology.  
Students take an active role in leading their own research studies, and have the opportunity to present and share their results with their peers and mentors as well as with the University community and beyond. They also share their interest and excitement about environmental and occupational health by reaching out to young budding scientists. An undergraduate, Sara Mar, spent her Spring Break teaching elementary-school students at the Quileute Tribal School about watersheds and water filtration. Jonathan Nagata, a graduate student, led a team from our department at Paws-on Science Husky Weekend at the Pacific Science Center, and joined other UW scientists in sharing their work with thousands of adults and children.
In June, we celebrated those students who graduated. And we continue to be proud, knowing that they will carry with them to their disparate professions a shared goal: to protect and promote human health and safety, be it in the community, home, or workplace.
Our graduates find careers ranging from applied public health practice, such as food safety and worker health, to basic research into how genetic and environmental factors affect susceptibility to diseases. They work alongside epidemiologists in the Washington State Department of Health and in Olympia with Governor Jay Inslee. They serve thousands of workers as health and safety professionals for major companies like Boeing and Weyerhaeuser and Amazon. Some lead their own research at major institutions where they are on faculty, while some of them come back to us in the department.
We have had the good fortune to reap many benefits from the work of one of our department graduates, Principal Lecturer Janice Camp, who retired in June.  She served in our department for over 35 years, where she directed the Field Research and Consultation Group, then the Continuing Education Programs, all the while teaching and mentoring students as well as building bridges with the professional practice community.
Our academic programs provide students a strong foundation. They learn and apply their skills inside and outside of the classroom, preparing them for their careers and the important burden they take on to foster and improve environments for human health and safety.
Sincerely,
Michael Yost
Professor and Chair,
Department of Environmental and Occupational Health Sciences