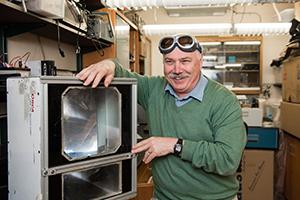 Department Chair Michael Yost.
Photo:
Elizar Mercado.
Get ready to roll up your sleeves.
As a student in the Department of Environmental & Occupational Health Sciences (DEOHS), you can expect to play a meaningful role in our innovative research and the contributions we make toward ensuring that clean air, clean water, safe food and safe workplaces are accessible to everyone.
I am proud of the many hands-on learning opportunities available to our students. From working in our research labs alongside world-class faculty to conducting field research with community-based organizations, our students engage with science in ways that lead to real-life environmental and workplace impact.
 
Examples include:
A partnership with Boeing to support DEOHS students working toward a career in the aerospace industry.
Our Environmental Health Research Experience program, providing our students with funded summer opportunities to work on health issues in rural communities.
A broad array of federally funded centers and institutes housed at DEOHS that provide valuable research opportunities for students.
Our intentional focus on training the next generation of scientist-leaders--and the resources we dedicate to making good on that commitment--is a key strength for DEOHS and the reason employers including Amazon and Boeing routinely recruit from our talented pool of students.
The critical support of our alumni, community partners, faculty and staff makes it all possible by offering our students opportunities to apply their knowledge to practical problems.
As prospective students visit our department in the coming weeks and enroll in our programs, I am excited to see the many ways their work will shape the future of population health in our community and around the world.
With warm regards,
Michael Yost, PhD, MS
Chair and Professor
DEOHS