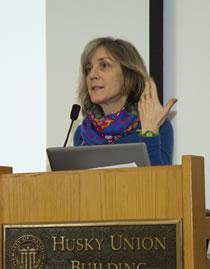 "It's great to see public health practitioners seated next to researchers in the audience and the connections being made— old and new—that link great research with communities," said Catherine Karr.
Photo:
Sarah Fish
Tribal elders—the history-keepers of their people—don't recall children having asthma in the old days on the Tulalip lands. Today, they often care for asthmatic grandchildren, as asthma rates have doubled among Washington Tribes, says Gillian Mittlestaedt of Tribal Healthy Homes Northwest.
As bad as it is for Washington Tribes, it is worse among Alaskan Native children. In some parts of rural Alaska, up to a quarter of children are hospitalized each year for respiratory infections. When firewood is scarce, in tundras for example, people often need to use wet wood, or even driftwood—both of which produce highly toxic combustion byproducts, such as benzene. "In Native homes that heat primarily with wood, we often see immune suppression, lung infections, and severe asthma," Mittlestaedt said.
Mittelstaedt and four other presenters described the burden of wood smoke on children, as part of the second annual Children's Environmental Health Research Matters conference held on campus February 26. Sponsors were our Pediatric Environmental Health Specialty Unit (PEHSU) and Center for Child Environmental Health Risks Research.
Bruce Lanphear of Simon Fraser University presented the pros and cons of randomized controlled trials in children's environmental health. He noted that the strong evidence on the effects of lead poisoning were accomplished without controlled trials. "Epidemiologists are really skeptical," he said. "If they agree, it means something," he said in relation to lead poisoning.
Lead control is critical in developing countries, he said (see related story, page 11). "It could have a better cost- benefit ratio than vaccines," he said.
Another epidemic—obesity—was the topic of the talk by Pooja Tandon from UW Pediatrics.Nationally, only 44% of three-to-five-year-olds play outdoors at least once a day, she said. Those most likely to play outside are boys with regular playmates, whose moms stay home and take them out for exercise. Only half of home-based child-care centers take their children outside to play. "Kids in child care are sedentary most of the time," she said.
The conference drew 76 participants from academia, nonprofit organizations, health departments, and other governmental agencies around the region.
"This event highlights both the important research and applications in policy and programs on behalf of children's environmental health here in the Pacific Northwest," said PEHSU Director Catherine Karr. "It's great to see public health practitioners seated next to researchers in the audience and the connections being made—old and new— that link great research and communities."