Return to 2016, Issue #3 issue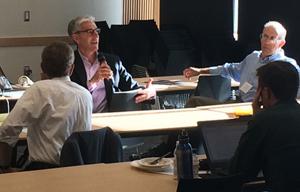 The two-day conference was sponsored by the Center for Health and the Global Environment (CHanGE).
Photo:
Jason Gordon.
Leading experts from around the world convened at UW to discuss the health benefits of climate change mitigation policies
Countries and municipalities worldwide are looking across sectors for ways to reduce greenhouse emissions. As these changes go into effect, many have the advantage of benefiting health.
Leading experts in climate change research gathered in September at the University of Washington to discuss policies and technologies that could not only reduce greenhouse emissions but also promote human health and well-being. These positive co-benefits from mitigation strategies can happen more quickly than the longer-term goal of slowing climate change. The two-day conference was sponsored by the Center for Health and the Global Environment (CHanGE) in the University of Washington School of Public Health. The center is co-directed by Kristie Ebi and Jeremy Hess, who both have faculty appointments in the Department of Environmental and Occupational Health Sciences and the Department of Global Health.
The meeting comes at a pivotal moment in history. Earlier in September, the U.S. and China ratified the Paris Agreement to reduce greenhouse gas emissions that contribute to global warming. These two nations account for 45% of carbon dioxide emissions. Also in September, the Washington State Department of Ecology launched a clean air rule that will require high-emitting businesses to cap and then reduce carbon pollution by 1.7 percent a year.
"The cost of doing nothing is unaffordable," said Dennis McLerran, administrator for the Environmental Protection Agency's Pacific Northwest region. He pointed to the damaging consequences of climate change on health including storms and rising seas that damage and destroy homes, Alaska Natives losing harbor seals to melting ice, and communities in the wake of Hurricane Sandy without safe drinking water. Insurance companies, he said, are already taking into account risks from climate change. People expect the government to be involved and engaged. He notes that technological innovation is often driven by rule-making, such as the increase in the number of electric vehicles on the streets in China and the U.S. That in turn, improves air quality. Poor air quality is linked to a number of health effects, including cardiovascular disease and asthma.
Transportation was among the sectors explored by conference participants, a sector that accounts for about a quarter of the carbon dioxide emissions in the U.S. Changes to reduce those emissions and encourage more climate-friendly modes—such as increasing the number of short trips on bicycles—could improve health. New data models can estimate the physical health and economic benefits of these kinds of mitigation efforts. In one study published in 2012, substituting a five-mile car trip for a bicycle trip could reduce 1.9 million tons of carbon dioxide and avoid hundreds of thousands of hospital admissions and almost 1,300 deaths because of improved air quality and increased exercise. The 2012 study led by Maggie Grabow, a complementary and integrative health research fellow at the University of Wisconsin-Madison, modeled these results using data from 11 metro areas of the Midwest during the May–September summer season.
Public health is late to the climate change discussion, acknowledges Clark Halvorson, assistant secretary for environmental public health at the Washington State Department of Health. That's unfortunate because understanding the health impacts of climate change can move the public to action. Among these are the birth defects associated with Zika infections and communities recovering from the aftermath of forest fires, storms and droughts.
Those that suffer from the consequences of climate change are disproportionately those with the fewest resources. Because those with resources are more likely to have an air conditioned house, and they likely will not live in an urban area that tends to trap heat and lacks sufficient resources during a heat wave. Or when a violent storm hits, those who can will get in their cars and stay in a motel or with friends, while the poorest have a more difficult time getting out of harm's way. The poorest will benefit most from climate mitigation actions, but only if attention is paid to equity in implementing them. 
Cultural differences contribute to and drive behaviors, such as transportation choices, said John Balbus, senior advisor for public health at the National Institute of Environmental Health Sciences, so research, communication, and policies must account for them. Cultural references can reinforce behavior such as in the bike-friendly Netherlands. Or they can be a barrier, such as in Washington, D.C., where only 1.7 percent of trips are by bike.
Surprisingly, diet plays an important role in climate change.
Our food system accounts for one-third of greenhouse gas emissions, said David Cleveland, a research professor at the University of California, Santa Barbara. The food system includes the manufacturing and distribution of seed, fertilizers, pesticides, and animal feed. The system also includes growing crops; raising livestock; packing, storing, shipping; making and managing of food; and then disposing of the waste. Approximately 40 percent of the U.S. food supply is wasted, said Roni Neff, an assistant professor at Johns Hopkins University. If wasted food around the world was counted as a single country, she said, citing a 2013 report by the United Nations Food and Agriculture Organization, then it would be the third largest emitter of greenhouse gases, after China and the U.S.  Sustainable dietary changes to minimize emissions would mean reducing waste by 50 percent, a target endorsed by both the U.S. and the United Nations, and reducing consumption of red meat, which is the most taxing to the climate because it is resource-intensive to produce. Reducing red meat consumption has the added advantage of significant public health cobenefits, she added.
Kristie Ebi, who moderated the conference sessions, said the health co-benefits of climate mitigation policies can inform discussions about mitigation policies. The Paris Agreement provides a direction for new research, research that is urgently needed to inform strategies that will be developed in the next few years to curb climate change. She and others who participated in the conference hope that health co-benefits will influence these policies and practices.