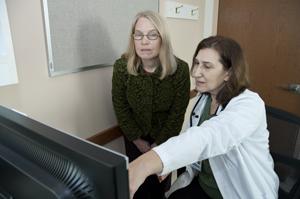 Clinic director Debra Milek (at right in photo) confers with research industrial Hygienist Nancy Beaudet.
Photo:
Sarah Fish
Debra Milek is a long-time physician with a list of degrees: PhD, MD, and MPH. That alone conveys that she is no ordinary doctor. But she has also ranked among America's Top Physicians by the Consumers' Research Council of America, and received the Compassionate Doctor and Patient's Choice awards from Vitals, based on patient reviews.
She left Mt. Sinai Hospital in New York City more than a year ago to become the medical director of our Occupational & Environmental Medicine Clinic based at Harborview Medical Center in Seattle.
Patients are referred to the clinic from across Washington state and from areas that may not have the expertise to diagnose and treat them. These are often complex cases, in which the cause of the injury or illness needs to be identified before comprehensive treatment can be planned.
Patients are seen by physicians who are on faculty in our department and in UW's Division of General Internal Medicine. The faculty also trains doctors in our Occupational and Environmental Medicine residency program.
"We don't just treat the injury or illness and send the patient back to work," explained Milek. Whether the worker has a musculoskeletal injury or chemical exposure, without some intervention, the patient may wind up returning to the clinic with the same injury. What affects one patient may also affect co-workers. Like canaries that were used to warn mine workers of harmful gases before the days of air monitoring, injured workers may point to hazards in a workplace.
The clinic's mission is to prevent injuries from happening. On staff in the clinic is Nancy Beaudet, a research industrial hygienist, who works with providers to offer guidance to workplaces that have potentially harmful chemical or physical exposures.
"I would like us to be recognized as a resource for workers and employers to make workplaces safer," Milek explained.
Milek is an associate professor in the Department of Internal Medicine and an adjunct associate professor in our department. She is one of the medical directors for UW Environmental Health & Safety, which is responsible for addressing environmental issues on campus in order to provide a safe educational workplace.
Milek is also the medical director of the Harborview/UW Center of Occupational Health and Education (COHE). The COHE offers education and mentoring to doctors and support staff from a variety of fields on occupational health practices and encourages implementation of health services coordination that helps improve injured worker outcomes.
Read more about the clinical services offered by the department.