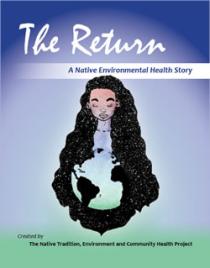 Cover of The Return.
Photo:
Nicholas Salazar
The Center for Ecogenetics & Environmental Health (CEEH) worked with Native Tribes to develop a 32-page comic book version of The Return, a Native Environmental Health Story.
This project began in 2008 with a collaborative grant from the National Institute for Environmental Health Sciences (NIEHS). The Northwest Indian College and the CEEH co-managed the project.
One of the goals of the Native TEACH Project was to find out how Native ways of understanding the world and our place in it differ from the Western concept of environmental health. Surveys, interviews, and talking circles identified three core themes of Native environmental health: community, wellness, and inter-relationship.
The Return was created from the findings. It is a dreamlike account of a Native woman and her baby, in which these three concepts are passed to the next generation.
The book was developed by Michelle Montgomery, PhD, senior fellow at the UW Center for Genomics & Healthcare Equality and a Tribal member, and Nicholas Salazar, a student at the Institute for American Indian Arts in Santa Fe, New Mexico.
Marilyn Hair distributed the book at the 2013 American Indian Higher Education Consortium Student Conference in Green Bay, Wisconsin, with more dissemination opportunities planned. The Return comic book is posted on the CEEH website.