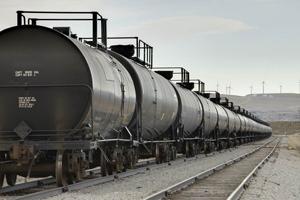 Around 100 tank cars of Bakken crude oil hauled by trains pass through Seattle about 15 times each week.
Photo:
Brian Brown Images/iStock/Thinkstock.
A little more than two years ago, a train carrying Bakken crude oil derailed in Lac-Mégantic, a town in eastern Canada, crushing tank cars and spilling thousands of gallons of oil that erupted into a ball of fire. Nearly half of the town center was destroyed in the fire that burned for 24 hours and left 47 people dead.
While new federal laws have been passed to address railcar design and chemical testing, many people remain concerned about the number of accidents involving trains carrying crude oil from the Bakken region of North Dakota in recent years and the number of trains carrying this crude oil rolling through Puget Sound. Engines hauling 100 or more tank cars of Bakken crude oil pass through the Seattle area about 15 times per week.
In response to these concerns, full-day training courses offered by our Continuing Education Programs aimed to increase awareness of the hazards and how to be prepared. They were given in Seattle and Everett, Washington, and Boardman, Oregon.
"These emergencies aren't going away. Planning is key," said John Malool, an instructor in the Northwest Center for Occupational Health and Safety who led the courses. He also teaches environmental and occupational safety at Rutgers University and is a fire chief in a New Jersey community impacted by these rail shipments.
Preparedness is especially important because the number of oil trains passing through Seattle could increase to 27 in the near future, said David Byers, who manages statewide response operations for the Washington State Department of Ecology. He spoke to course participants about Washington State's new oil transportation safety bill, which went into effect on July 1, 2015. The bill aims to prevent and respond more effectively to oil spills. Rail operators must have plans in place for all forms of oil transportation—including rail transport—in case an accident occurs. It also requires railroads to notify communities and responders of oil trains passing through their locales.
The course covered rail transport through the region, Bakken oil characteristics, strategies for Bakken oil fire suppression, emergency planning, and response.
Listen to an interview with John Malool on KPLU.