Return to 2017, Issue #1 issue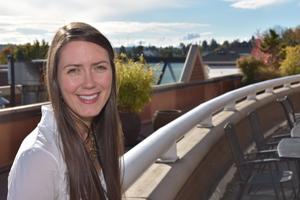 Marissa Smith, a PhD student in the department, developed a framework to evaluate and prioritize potential chemicals of concern in the Department of Ecology's manufacturers' database.
Photo:
Elizabeth Sharpe.
Under the Children's Safe Products Act passed in 2008, manufacturers who sell children's products in Washington state must report on the presence of 66 different chemicals in those products.  The legislation responded to widespread concern for children's exposures to chemicals in consumer products. Tens of thousands of reports have been entered in the database, and regulators face a daunting task in teasing out information to support future regulatory action.

Now, Marissa Smith, a PhD student in the department, has developed a framework to evaluate and prioritize potential chemicals of concern in the Department of Ecology's manufacturers' database by integrating it with other freely available databases and known information about health impacts. At least ten other states around the country are taking note. The work was published in the April 2016 issue of the International Journal of Environmental Research and Public Health.  She was invited to present on the framework to the Interstate Chemicals Clearinghouse, an association of state, local, and tribal governments, and Smith was awarded a highly competitive three-year Science to Achieve Results (STAR) graduate fellowship grant worth $132,000 from the U.S. Environmental Protection Agency to support her research and educational expenses.

The framework she developed puts the information about each chemical and product category in the manufacturer database on a numerical scale. The chemicals and product categories to be prioritized because of their total score "float to the top," Smith said. Just because the chemical is listed in the database doesn't mean it is harmful to human health or in violation of existing safety standards.  However the chemicals at the top of the list have the potential to be hazardous to children's health, due to a combination to toxicity and exposure factors, Smith said.

"There are a lot of factors you have to consider before you can make a decision about whether or not [the chemical] is a  concern for children's exposure," explained Smith, who is in the Environmental Toxicology degree track in our department. "To make a decision about which chemicals are the most concerning, we need to include toxicological factors, exposure factors, and factors about the product, too."

She used freely available databases along with the manufacturers' own descriptions to arrive at a method of scoring chemicals for a range of properties that influence exposure and toxicity to children, particularly for younger children, who are the most vulnerable. For example, at three years old, children's bodies are still developing and they commonly put items in their mouth, increasing the potential for ingestion of a chemical. The toxicity of a chemical can be greater for a child than for an adult because the child's body is smaller and many biological systems are rapidly developing. In the framework, the total scores for exposure and toxicity are multiplied together and the result is a total priority score.

In the paper she published earlier this year, she reports that formaldehyde, styrene, and dibutyl phthalates had the highest priority scores for chemicals among the 33,000 manufacturer reports then available in the database. Kitchen merchandise, stationary and office machinery, and toys and games had the highest total priority scores for product categories.

The attributes she scored were: the target age of the child using the product; exposure duration, such as short-term use for stationary or long-term use for clothing; chemical concentration in the product; properties of a chemical that avails it to absorption; the percentage of the chemical absorbed through inhalation, dermal, or oral exposure; and a gauge of the chemicals' toxicity and potency for causing cancer or damage to developmental processes or reproductive and nervous systems.

The toxicological framework, Smith explains, prioritizes chemicals for future action. It does not compare risk of one chemical to another. Nor does it indicate which chemical is deemed to have the most risk. However, using this framework allows regulators to relatively quickly sift through tens of thousands of manufacturer records and identify chemicals or products for closer monitoring and to test more thoroughly. Smith's work influenced the Department of Ecology to investigate the chemicals and products that she found with the highest priority scores. Ecology has its own Product Testing Database. In this program, Ecology purchases and tests consumer products for reported chemicals.

The next step in Smith's research is to investigate whether the chemicals found in consumer products are also observed in children's homes and bodies.  To find out, she will connect disparate databases together. For example, she will link Ecology's product testing data with the manufacturers' reported data and compare these data to those in state and federal biomonitoring programs.  Results from biomonitoring surveys, such as the National Health and Nutrition Examination Survey, Washington State Environmental Biomonitoring Survey, and the Center for Child Environmental Health Risks Research's dust and urine biorepository, will provide valuable information about amounts of chemicals found in children who live in Washington state and those found in their homes.

Co-authors and co-investigators of these studies include: Elaine Faustman, a professor in the Department of Environmental and Occupational Health Sciences and director of the Institute for Risk Analysis and Risk Communication; Alison Cullen, a professor in the Evans School of Public Policy and Governance; and Joshua Grice, who was formerly at the Washington State Department of Ecology and is now at the Washington State Institute for Public Policy.