Return to 2017, Issue #1 issue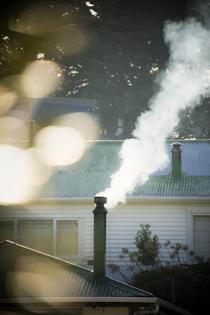 Smoke from domestic wood stove in Wellington, New Zealand. An international team of experts were invited to help design a study on wood smoke pollution in the country.
Photo:
Dave Allen, NIWA.
The National Institute of Water and Atmospheric Research (NIWA) in New Zealand invited 14 experts in the health impacts of wood smoke from heating and cooking to a five-day workshop in July 2016. Among the researchers was Professor Christopher Simpson from our department.

The workshop was the launch of the International Wood Smoke Research Network, an initiative to garner the collective experience of the researchers who have conducted studies in their home countries of the U.S., Canada, Europe, and Australia. Together with NIWA, the invited researchers will help design a large-scale research study alongside an intervention program in New Zealand.

NIWA found the major source of fine particulate matter  (PM 2.5) in many smaller communities in New Zealand is older style combustion wood stoves.
Three cities on the country's South Island: Arrowtown, Cromwell, and Alexandra, with populations between 2000 and 5000 people, had measurements over a 24-hour period that averaged nearly three times above the level enforced in the United States under the Clean Air Act (35 µg/m3), with some hourly peaks more than 11 times that level. "This is well over what would be acceptable in the U.S.," said Simpson.
Exposure to PM 2.5 has been associated with decreased lung function and other respiratory symptoms in children with a history of asthma. Chronic exposure to PM 2.5 can increase risk of cardiovascular effects leading to heart disease and stroke. Evidence also suggests that PM 2.5 from combustion sources is carcinogenic.
Research by alumnus Ryan Allen (PhD, Environmental and Occupational Health, 2004), who is an associate professor of environmental health at Simon Fraser University in British Columbia, Canada, has investigated the impact of wood smoke on children and adult's health. He was also invited to New Zealand to be part of the research network.
Fixing the problem in New Zealand is not as simple as enforcing emissions from a large industry, because in this case it is "a whole bunch of emitter sources," said Simpson, who grew up in New Zealand.  Implementing any kind of solution will be challenging.

For one, he explains, many in these communities have burned wood to heat their homes for generations. Second, wood is cheap, and for some, close to free, if they live near a plentiful supply of trees.
Economically, paying for an alterative, such as for electricity or an alternative fuel source, may be prohibitive, for both the residents and for the government.
Simpson said an intervention can be effective when it is paired with outreach, education, and involving community members in research studies and intervention studies.
In 2008, Simpson collaborated with Puget Sound Clean Air Agency to study air pollution in Tacoma, Washington, which was out of compliance with the U.S. standard. Simpson found wood smoke concentrations were highest in residential areas of South Tacoma. What followed was an educational outreach program to residents, a burn ban program, and residents were offered incentives to change out older technology uncertified wood burning stoves. It was successful, as Tacoma is back in compliance.
NIWA's plan to collaborate with international experts to design a study and intervention will provide evidence of wood smoke's impacts on health and identify gains achieved through an intervention.
Simpson cautions that undertaking epidemiology studies of health effects of wood smoke in small communities is difficult. There aren't enough people in one place to draw conclusions.
Yet, he says: "I think there is reason for optimism. It's clear if communities buy into the solution, if you can get communities to accept the need to reduce emissions, then emissions can be controlled. It's not a problem that can't be solved."