Return to Spring/Summer 2013 issue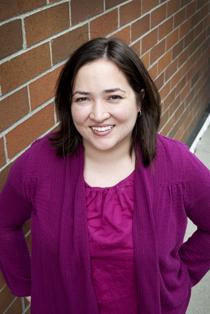 Terumi Capeling.
Photo:
Sarah Fish.
Terumi Capeling
DEOHS Distinguished Staff Award
As manager of the Pacific Northwest OSHA Education Center in the department's self-sustaining Continuing Education Programs, Terumi Capeling has a busy job. The center is the only authorized OSHA training facility in the Pacific Northwest. It offers high-quality, standards-based training for workers, management, and health and safety professionals in the private and public sectors. Between 2011–2012, it offered 123 classes that included 22 different course titles to approximately 1500 trainees. Capeling has worked for the Continuing Education Programs since May 2006. Over the years, she has accepted increasingly higher level duties and has continued to impress the program's directors with her leadership and ability to work with a diverse group of instructors, clients, and staff members. Her nomination cites her "calm focus during times of significant change, which has helped to ensure a consistently high level of service and quality." Capeling was recognized at the department's annual Staff Appreciation Brunch on April 27 and at the School of Public Health awards ceremony on May 17.
Adrienne Hidy
SPH Community Service by Staff Award
DEOHS Administrator Adrienne Hidy puts public health principles into practice. She is helping Seattle's Asa Mercer Middle School on Beacon Hill address pedestrian and bicycle safety. Working with the parent-teacher-student association, she wrote and received grants totaling $100,000 from the national SAFE KIDS organization, FedEx, and Seattle Department of Transportation Safe Routes to School program. Other community partners include Beacon BIKES and Feet First. Working collaboratively, they provided key information about pedestrian and bike safety to children and their families. In addition, with the construction of a sidewalk adjacent to the school, the project has improved safety in the community. The project also generated a coordinated effort to support healthy transportation choices for the Mercer School community, encouraging more bicycling- and walking-to-school options. Hidy was recognized for her community service at the School of Public Health awards ceremony on May 17.
Michael Yost
Graduate Student Advisory Committee's 2013 Outstanding Faculty Mentor
Professor Michael Yost was named the 2013 Outstanding Faculty Mentor, the first "repeat" award winner since the DEOHS Graduate Student Advisory Committee began the award in 2006. The award recognizes a faculty member's exemplary mentorship of students in terms of availability, collegiality, and support, among other criteria. In nominating Yost for the award, one student wrote that "he has a dedication to his students that goes beyond the role of mentor. This is reflected through his unconditional sincerity, passion, patience, support, generosity, devotion, guidance, and encouragement." Graduate students Jill Schulte and Tyler Nicholas presented Yost with the award at the department's Graduation Recognition Ceremony on June 14. He was previously recognized by students in 2010.