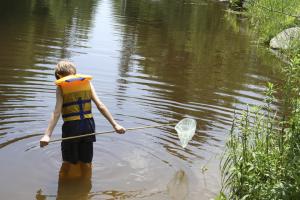 Established in 1972, the Clean Water Act aims to protect human health and the environment by regulating and monitoring the quality of our nation's lakes, rivers, and coastal areas.
Photo:
Claire DesJardins/photos.com
Revised fish consumption rate will help set new sediment management and water quality standards
The amount of fish we eat in Washington has been the subject of debate, especially as the state's Department of Ecology (Ecology) moves forward with revisions to sediment management and water quality standards. There is a lot at stake, and a number of different groups have been involved in the process, including researchers in the Department of Environmental and Occupational Health Sciences.
Here in the Northwest, our marine and fresh waters provide a rich source of fish and shellfish, which contain nutrients important to a healthy diet. Yet, they may also contain toxic substances. Chemicals found in water and sediment, such as polychlorinated biphenyls (PCBs) or mercury, can build up to unsafe levels in fish tissue and pose risk to human health. Among other effects, chemical exposure may cause illnesses, such as cancer, cardiovascular disease, and neurological and behavioral disorders. The more contaminated fish consumed, the greater the risk.
Effects of pollution on fish
Toxics that pollute waterways, such as Seattle's Duwamish River, come from a number of sources. Some chemicals, such as PCBs, are called "legacy pollutants" because they were banned long ago but persist in sediment and leech into water. Other chemicals come from industrial discharge and treated wastewater. Road runoff residue from car exhaust, chemicals used in roofing materials, and residential pesticides pool into nearby streams.
Tiny algae and plankton take up the contamination in polluted water; they are then eaten by other species, such as shellfish, crabs, and resident fish. In the case of the Duwamish, that list includes perch, flounder, English sole, and rockfish.
Complicated formulas assess how much of the environmental chemical in the fish comes from the sediment and how much comes from the water. "There are multiple drivers we must consider to determine the amount of contamination that gets into fish. These can include chemical compound characteristics, such as fat solubility, and the source of contamination," explained Professor Elaine Faustman, a toxicologist in our department. Faustman serves on scientific advisory committees for Ecology and the US Environmental Protection Agency (EPA). In 2010, she was on an international panel of experts who advised the Food and Agriculture Organization and the World Health Organization of the United Nations about the risks and the benefits of fish consumption.
Fish consumption rate
To ensure that our nation's lakes, rivers, and coastal areas are safe, under the federal Clean Water Act, state and Tribal water quality standards must adequately protect public health and welfare.
The state standards—which the EPA must approve—are based in part on a fish consumption rate. The rate ideally protects people who eat fish and shellfish and determines how clean waters must be. Waters polluted by environmental toxics and exceeding a certain threshold must be cleaned up and discharges curtailed.
"If you assume people eat very little fish, you can have a lot more contamination in fish tissue to be safe," said Robert Duff (MS, Toxicology, 1993), who manages the Environmental Assessment Program at Ecology. "But if people eat a lot of fish," he continued, "then you have to drop the level [of contamination] that is acceptable in fish tissue. That's why the fish consumption rate is so important. In the state of Washington, we know we have high fish consumers."
The current guideline used by Washington state for the fish consumption rate was set by the EPA in the 1980s, based on a nationwide survey that asked fish and non-fish consumers about the amount of fish they ate the preceding day. The results of the survey led to a default fish consumption rate of 6.5 grams per day, a bite-sized morsel equivalent to a cherry tomato. In 2003, the EPA nearly tripled that recommendation, citing the original rate as unrealistic.
Some states have already increased their fish consumption rate. Oregon's new rate of 175 grams per day was approved by the EPA in October 2011. Following Oregon's lead, on January 15, 2013, Ecology released the final form of a technical document that compiled fish consumption data on Washington residents and included related research and information. Ecology will use this document to inform risk management decisions associated with setting new sediment management and water quality standards.
During summer 2010, Anna Schmidt (MS, Occupational & Environmental Exposure Sciences, 2011) interned at Ecology under toxicologist Craig McCormack and worked on the first draft of the document.
Vulnerable populations
Schmidt compiled and helped evaluate the fish consumption studies that were relevant to Washington state, including those on Tribal groups, Asian and Pacific Islanders, and the US population.
The experience—noting how little information was available on certain groups—prompted her to focus her master's thesis research on fish consumption and environmental concerns in low-income and food-insecure populations that often fish in local waterways to supplement their diet. Working with Associate Professor William Daniell, Schmidt found that fish consumption behaviors of these groups were comparable to other high fish consuming populations, such as Native Americans and Asian and Pacific Islanders.
Among the studies Schmidt analyzed for Ecology was one conducted by UW Center for Ecogenetics and Environmental Health researchers in collaboration with the Refugee Federation Service Center. This study described the fish and shellfish consumption rates for Asian and Pacific Islander populations, species and seafood parts commonly eaten, and cooking methods used. The researchers found that this population had a median consumption rate of 89 grams a day, and for those frequent fish consumers who ate more than the other 90 percent, the rate was 236 grams a day, or fish at one meal or more each day. (The 90th to 95th percentile is the range that regulatory agencies use to set standards deemed protective of human health.)
Data gathered on Tribes in Washington state also show significantly high fish consumption rates. Members of the Suquamish Tribe—who live along the Kitsap Peninsula and harvest nearly all of the fish they consume locally—report 489 grams a day (90th percentile), equivalent to two fish fillets a day.
The Confederated Tribes and Bands of the Yakama Nation live in central Washington along the Yakima and Columbia rivers. They were among the other Tribes (Nez Perce, Umatilla, and Warm Springs Tribes) surveyed in 1994. These Tribes reported consuming 176 grams (95th percentile), or about three fish fillets a week. The 1994 survey of these Columbia River Basin Tribes was used to set the default fish consumption rate in Oregon.
However, contemporary fish surveys—asking people what they eat—do not take into account what they cannot eat, said Jamie Donatuto, an environmental specialist who works for the Swinomish Indian Tribal Community in La Conner, Washington. Donatuto was among the organizers of the 2009 "Tribal Rights and Fish Consumption Workshop: Issues and Opportunities for the Pacific Northwest" hosted at the UW by Professor Faustman's research team.
Donatuto has been involved with the Northwest Indian Fisheries Commission, a support service organization for 20 Tribes in western Washington that has been working with Ecology since 1994 to revise the fish consumption rates.
Data collected on rates and type of fish currently eaten by Native groups are significantly lower than historical rates of fish consumption because access to fish is limited, Donatuto explained. For example, dams along the Columbia River and improperly designed or maintained culverts can negatively impact salmon numbers. And if the water is contaminated, eating desirable levels of fish could put the consumer at risk for health problems.
Publicly posted comments to Ecology's technical document by Tribes like the Swinomish and Suquamish point to treaties that reserve Tribal rights to safely access and harvest fish in designated waterways. These rights, said Donatuto, should be protected by policies and regulations that protect consumers and prevent degradation of water quality and fish habitat.
"The risk assessment process addresses the science and shows that, 'Yes, people are eating more fish and this may pose health problems at certain contaminant levels,'" explained Professor Faustman. "Risk management is then a process that asks: 'What do you do about it? Do you put signs up that say no one can eat the fish? Do you try to clean up the area?' Sometimes these cleanup actions will take a long time to have an impact on the quality of the fish. That's what we're seeing in Puget Sound."
Going forward
Robert Duff feels certain that the fish consumption rate will be raised. But he's concerned how effective tighter standards over pollution discharge will be in cleaning up the water and making fish safer to eat.
"We're having trouble meeting the standard now," he said. "To just be happy with changing the math and lowering the standards is not really effective." Instead, he said the goal is to reduce toxics at their source, such as finding out what products contribute to the pollution.
Ecology will host a series of open forum discussions on the water quality standard revision in the next year: http://www.ecy.wa.gov/programs/wq/swqs/hhcpolicyforum.html.