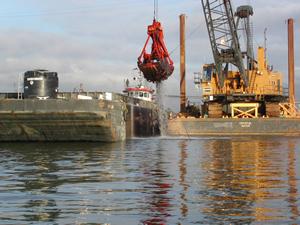 Dredging the Duwamish River.
Photo:
Colin Wagoner, Ridolfi Inc. 2004
The director of the National Institute of Environmental Health Sciences (NIEHS) joined local researchers, govern- ment officials, and industry experts at a public forum on the health impacts of pollution in the Duwamish, Seattle's working river.
Our Center for Ecogenetics and Environmental Health (CEEH) hosted the April 18 forum as part of the annual meeting of the NIEHS-funded Environmental Health Sciences Core Centers.
Eight presentations were followed by questions and discussion. Speakers were Linda Birnbaum, NIEHS director; Robert Duff, program manager, Environmental Assessment Program, Washington Department of Ecology; BJ Cummings, community health projects manager, Duwamish River Clean- up Coalition; Valerie Segrest, nutritionist and Muckleshoot Tribal member; Rebecca Lindgren Chu, remedial project manager, Environmental Protection Agency (EPA); Professor David Eaton, CEEH director; Brian Anderson, who works in environmental remediation for The Boeing Co.; and Steve Curwood, host of Public Radio International's environmental program "Living on Earth."
The public forum provided an opportunity to hear various perspectives about the historical, environmental, cleanup, and health issues on the Duwamish.
The Duwamish has a long history as a free-flowing river that was channelized a century ago for industrial use. The Port of Seattle, Boeing, and other industries are located on the Duwamish.
The Duwamish Superfund site, a 5.5-mile stretch of the river that flows into Elliott Bay, is one of the most polluted places in the country. The EPA released its proposed cleanup plan for the site on February 28. The forum took place during the 90-day public comment period on EPA's proposed plan.
The diverse and historic neighborhoods along the Duwamish, including Georgetown and South Park, are home to a disproportionate number of residents who are low-income, Hispanic, or recent immigrants. The river is also part of the traditional fishing grounds of three Tribes.
Although a Washington State Department of Health fish advisory warns not to eat any resident fish or shellfish from the Duwamish River, health officials know that many people still harvest from the river, subsidizing their diets with contaminated seafood, either from economic necessity or lack of understanding or acceptance of the health risks.