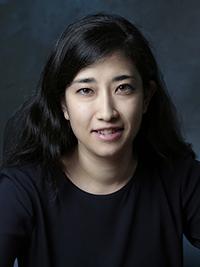 "We can't expect growers or workers or communities or researchers to solve this alone--everyone has to play a part," says Associate Professor June Spector.
Photo:
Anil Kapahi.
DEOHS associate professor June Spector explores why some people are more resilient in the heat
In a world that is slowly getting warmer, Dr. June Spector is trying to answer a burning question:
Why are some people more adaptable to higher temperatures while others suffer serious health consequences as the heat rises?
The answer has important implications for Washington's seasonal agricultural workers, who are exposed to hot summer weather and body heat from exertion as they work. They are the focus of research led by Spector, associate professor in the UW departments of Environmental & Occupational Health Sciences and Medicine.
In addition to protecting farmworkers and others who work outdoors and optimizing their productivity, Spector believes the answer could lead to new strategies to help communities become more resilient in the face of climate change.
 
"Who is more vulnerable and why?" Spector asks. "Some people do just fine in the heat--what is it that makes them bounce back? And how can we help people maintain their resilience, even if climate conditions deteriorate?"
Farmworkers at greater risk
Spector began studying farmworkers in Eastern Washington in 2011 when she joined the department. She earned her medical degree from Yale University and an MPH in biostatistics and epidemiology from Johns Hopkins University.
Her research investigates how work in the heat affects their health and documents the toll of heat-related illnesses and injuries.
One of her key findings: Farmworkers have a 21 percent higher chance of traumatic injury at temperatures between 86°F and 91°F compared to when the air temperature is less than 77°F.
"The thing that strikes me most is how preventable these deaths, illnesses and injuries are" with modifications in the work environment, Spector says.
For example, recent research suggests that paying workers by the amount of work they perform (or piece-rate), compared to paying them by the hour, increases the chance of workers experiencing symptoms of heat and kidney injury.
Her research has policy relevance. It was part of a body of work that contributed to a recent Washington state Supreme Court ruling requiring employers to pay piece-rate agricultural workers separately for their rest breaks in addition to their regular wages. Worker advocates see this as a way to encourage farmworkers to take a break to prevent heat illness or injury.
Looking for solutions
Now Spector has turned her attention to working with agricultural growers, workers and communities to develop evidence-based tools to prevent heat-related injuries and illnesses and increase heat resilience.
Her research involves some cutting-edge methods, including the use of "thermometer pills"--wireless temperature sensors developed by NASA and its partners that are swallowed and can transmit real-time core body temperature to a data recorder.
She is also working with the Nature Conservancy to understand how land-use changes may affect health as temperatures rise. She is studying the effects of deforestation in Indonesia on health and looking for clues to how Indonesians stay healthy in the heat.
"What we're moving toward is multilevel approaches to prevention. We can't expect growers or workers or communities or researchers to solve this alone--everyone has to play a part," Spector says.
Mentoring student-scientists
Students play an important role in Spector's research. She was recognized in 2017 as the department's outstanding faculty mentor, and she works closely with both undergraduate and graduate students in her research.
Recently, she worked with DEOHS student Gabino Abarca to assess whether certain biomarkers could provide early warning of heat-related kidney injury in Washington farmworkers. The research is being featured as part of Undergraduate Research Day at the state Capitol in Olympia in February 2018.
A personal perspective
Spector has a unique vantage point on issues of heat-related health effects as the interim director of the Occupational and Environmental Medicine (OEM) Clinic at the University of Washington.
The role involves overseeing and working with faculty and staff who lead the clinic, an OEM physician training program, a quality improvement program, an OEM degree program and a center for chemically related illness.
As a health-care provider, she works with individual patients, including some suffering from heat-related illnesses or injuries on the job.
"We try to loop back and say, 'How did this happen and how can we prevent it in the future?' That's a unique feature of OEM and something our students get excited about," she says.
In addition to her research, teaching, administrative and clinical roles, Spector also recently joined the board of directors for the Washington Poison Center.
---
–Jolayne Houtz is director of communications and public relations for the UW Department of Environmental & Occupational Health Sciences.