Return to 2017, Issue #1 issue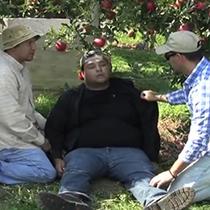 Warm weather along with Internal body heat generated from physical exertion contributes to overall heat stress.
Photo:
Pacific Northwest Agricultural Safety and Health Center.
Warmer weather is related to an increase in traumatic injuries for outdoor agricultural workers in central and eastern Washington. These findings, which appear October 7 in PLOS ONE, come from a study by researchers at the University of Washington and the Washington State Department of Labor & Industries' SHARP Program. The study is the first to estimate the risk of traumatic injury in farmworkers using temperature data linked to the geographic location of the injury. Read the full story.