Return to 2016, Issue #3 issue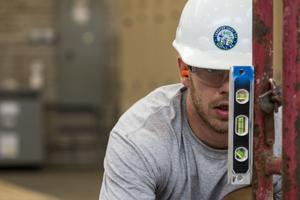 Alex Kiszelewski was among the students in the first PACE training cohort.
Photo:
Katherine Turner.
Construction pre-apprentices get safety training and job skills in 11 weeks
There are over a dozen men and women on the second day of try-outs for the Washington State Building and Construction Trades Council's King County Pre-Apprenticeship Construction Education (PACE) program, the first nationally to be sponsored by a building and construction trades council.
It's a typical day in Seattle. Overcast. Soon the sky opens, releases a sprinkle, sometimes a deluge. But those trying out for admittance into PACE aren't so typical, and that's why they're there. Melissa Donahue and Tonika Marie Lowe are one-by-one lifting three 80-pound bags of cement out of a wheelbarrow with a flat tire, then returning them again, and pushing it down the dock. Lowe is breathing hard. Her face is red, grim, determined. Inside, another four-person team is taking turns carrying, then lining up two-by-four pieces of wood or stacking cement blocks. 
PACE provides trades-related job skills toward a construction industry apprentice, which is an on-the-job training for novices under an experienced practitioner. PACE is a grueling 11-week or 380-hour program.
The folks watching, taking notes, are looking for drive, a person who won't quit. They test for drugs. They ask personal questions. What would prevent a person finishing the program? They are judging the applicants by their perseverance, positive attitude, punctuality, and work ethic. Not their histories.
Not everyone makes it to graduation. But for those that do, there is a 90-percent placement rate and the opportunity to make $18-20 an hour.
Job security and a steady paycheck aren't taken for granted by these prospective students. Many are minorities, from low-income groups. Some didn't graduate from high school. They may have learning disabilities. A couple have served time in prison. One has a mom who was hooked on drugs and living on the streets when she was growing up, a father murdered at a Jack in the Box.
This program is a means for students to get back on their feet and break the cycle, said Michael Dunn, who was among the interviewers at PACE tryouts. He manages the Worker Training Program in the Department of Environmental and Occupational Health Sciences, which provides health and safety training in PACE.
Butch de Castro, an adjunct associate professor, in the department directs the Worker Training Program funded by the National Institute of Environmental Health Sciences.  He explains that the construction industry is rife with hazards and job safety is key, particularly for workers new to the industry.
We are committed to reducing work-related injuries among underserved worker populations through education," he says.  "PACE gives students a strong foundation in workplace safety and health, setting them up for safer, longer careers in a construction trade."
Instructors provide asbestos, lead, OSHA 10-hour, and 40-hour Hazardous Waste Operations and Emergency Response (HAZWOPER) training. The 10-hour class introduces students to hazards on the job and how to stay safe. The class covers electrical, ladders, scaffolds, preventing falls, personal protective equipment, confined spaces, excavation, handling materials. The HAZWOPER class teaches students about hazardous chemicals, how to safety handle and dispose of them to protect the safety of workers and the environment, and OSHA regulations.  
They are also taught life skills, such as managing finances.
Basic industry knowledge and skills are taught by Scott Sanchez, the trades instructor: hand tool & power tool use, trades math, blueprint reading, certifications in forklift, flagging, and first aid/CPR. Sanchez has 22 years of experience in the industry.
He knows how to do it right," said Jenaye Simpson, a single mother in the first PACE cohort.  "It's 11 weeks for the rest of your life," she said. "As long as you show up and show Scott and Diane that you are ready and you want to learn, they're going to set you up to fly."
Diane Davies administers the PACE program. She also helps students manage some of the obstacles and barriers they have and gives them support and structure. When they're needed, bus passes are available. Food is provided by a food bank and Safeway. The students' uniform, their standard equipment—hard hats, boots, gloves, tool belts—are donated by local construction companies, general contractors and labor and electrician unions.
It's the industry investing in the apprenticeship program as a pipeline into the industry," she said. There are multi-billion-dollar projects all over the city that need skilled workers. "There's a need in the industry; there's a need in our community," Davies said.
The City of Seattle must hire a percentage of workers from the local area where the construction is taking place. The City is interested in providing building space for the program. For PACE's first year, the UW's Department of Construction Management leased its 2500-square-foot Bay B facility in Magnuson. King County invested $120,000 in the program.
Davies' boss, Lee Newgent, is executive director of the Washington State Building and Construction Trades Council. He negotiated the building trades agreement in Olympia, so that the students in this pre-apprenticeship program get preferred entry for jobs in the trades.
Newgent speaks highly of the construction industry and the role it plays in training and hiring workers. The industry, he explained, doesn't discriminate against someone with a criminal background, for someone's gender, or by the color of someone's skin.
Newgent grew up on the corner of 41st and Genesee in South Seattle. He admits he was once a "gang-banger." He knows how a good union job can make a difference. Now, he has 35 years behind him as an ironworker.
The program costs $9000 per participant. But it's a long-term investment.
We need the hardest workers—Crossfit is a vacation for our workforce," Newgent said. "We're not accommodating problems; we're fixing them."
For more information, visit the NIEHS Worker Training Program website. Learn more about PACE by contacting Diane Davies, 206-947-5362.