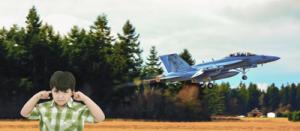 The PEHSU team found considerable evidence that jet noise negatively impacts children's health and offered recommendations to community residents.
Photo:
plane: Joe A. Kunzler; child: castillodominici/iStock/Thinkstock.
In January, researchers from our department participated in the Annual Symposium on Environmental, Occupational, and Population Health at Semiahmoo Resort in Blaine, WA. The news brief below highlights a presentation from the conference.
The EA-186 Growler jet passing by overhead was so loud that a little boy playing baseball on Whidbey Island stopped to cover his ears with his hands.
It wasn't an isolated incident for the community residents who live near the Naval Air Station's Outlying Landing Field where Navy jet pilots practice "touch and go" procedures for landing on aircraft carriers. The jets have up to four practice sessions both day and night, each averaging 45 minutes. Residents find only weekends free of noise.
So, the community—concerned about the health effects of jet noise on their children and the Navy's plan to increase the number of training exercises—turned to the Northwest Pediatric Environmental Health Specialty Unit (PEHSU) for help and hired Samantha Serrano (MS, Environmental Health, 2013) to review the published epidemiological studies on chronic aircraft noise exposure and children.
Serrano found most (two reviews and 15 original studies) investigated children at schools located near airports, with three consistent results. High levels of noise exposure were associated with impaired learning, particularly reading ability and academic performance. Exposure was related to increased feelings of irritation, discomfort, distress, and frustration. The exposure also was associated with decreased motivation.
While the publications didn't document hearing loss, Serrano said it is well studied in occupational settings.
The community also hired an independent consultant (not connected to PEHSU), who took noise measurements during jet training. The highest measurements were 119.2 dBA, noise levels equivalent to a rock concert or a chain saw, and all the measurements exceeded the Washington state residential limits of 55 dBA.
At a public meeting of 100 Whidbey Island residents, Serrano—along with PEHSU Director and Associate Professor Catherine Karr and Research Industrial Hygienist Nancy Beaudet—presented the results of the literature review. They explained the health effects of noise exposure on children and recommended the following solutions to reduce children's exposure to jet noise (ordered most to least effective):
Relocate the training activity to an area where children would not be impacted.
Relocate areas affected by noise where children spend time (schools, daycare, play areas, home) or use engineering controls to limit noise levels in those areas.
Address the issue of noise as new community structures are planned and built.
Educate children to avoid noisy areas and to use hearing protection during jet practice.
In addition, the researchers recommended that a health impact assessment of the jet training be conducted, with a focus on children's health.