Return to 2016, Issue #1 issue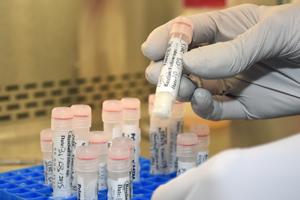 A Bill & Melinda Gates Foundation grant to UW will support the TB oral swab project in partnership with a South African team.
Photo:
Elizabeth Sharpe.
Researchers at the University of Washington and the University of Cape Town in South Africa plan to partner on a two-year study to test a lower-cost, simpler, and safer method in diagnosing tuberculosis (TB).  A $1.02 million grant from the Bill & Melinda Gates Foundation to the UW will fund the project.

The new, larger study builds on an earlier, small pilot project that found that oral swabs correctly detected TB in most of the adult participants who had the infection.
Gerard Cangelosi, who leads the research study, is a professor of environmental and occupational health sciences and of global health in the UW School of Public Health.
Read the full news release.