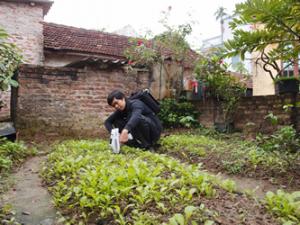 Nguyên Khac Hoài Nam tests a vegetable garden in the village of Dong Mai using an XRF elemental analyzer.
Photo:
Gerry Croteau
In Vietnam, many communities make money by recycling lead from used car batteries. Recycling activities, once conducted primarily in homes, result in widespread lead contamination. As a result, many children in these communities have high levels of lead in their blood.
Several DEOHS researchers, in collaboration with the Vietnamese National Institute of Occupational and Environmental Health (NIOEH), have studied these children and their environment, and helped find ways to clean up the contamination.
To help develop a lead remediation plan for one such village, Research Industrial Hygienist Gerry Croteau and Associate Professors Catherine Karr and William Daniell tested surface lead levels in the Dong Mai battery recycling village, using an XRF elemental analyzer.
Croteau describes the XRF as a device from the future, which can complete an elemental scan in 30 seconds. In two days, the team collected 225 measurements in nine homes and a school. Such an effort using conventional methods would have taken days with the results not available for a month. The instantaneous measurements allowed the team to consider possible exposure routes and better target monitoring efforts.
Along with a Vietnamese collaborator, Nguyê̂n Khăc Hoài Nam, they tested gardens, house dust, and schools. The trio also presented at the fourth International Scientific Conference on Occupational and Environmental Health in Hanoi, in November, which the UW co-sponsored with the NIOEH. Affiliate Professor Barbara Silverstein ran a two-day ergonomics workshop with a selected subgroup of her long-term training cohort.
Daniell and Karr organized a children's environmental health stakeholder workshop, which focused on the Dong Mai village. Then, they led a field trip to the village and met with local officials.
The funding comes from Daniell's Rohm and Haas Professorship in Public Health Sciences. An earlier study at the same village was conducted with Fogarty as well as Rohm and Haas funding.