Return to 2016, Issue #3 issue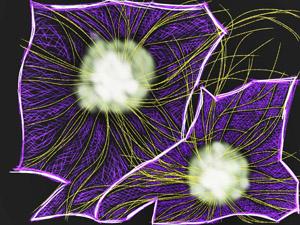 The protein ERK5 helps generate neurons and plays a role in learning and memory.
Photo:
albastrica mititica/Flickr Creative Commons.
Many people believe that humans are born with all the brain cells they will ever have, and this is largely true. However, a few areas in the brain continue producing these cells, called neurons, throughout adulthood. Moreover, increasing the generation of neurons has been shown to significantly improve learning and memory.
This discovery has been the basis of work from Professor Zhengui Xia and colleagues, who found that a particular sequence of protein activations regulates the generation of neurons. This means that a small change, such as increasing the activity of one of the proteins in this sequence, can have a big impact on learning and memory.
Xia demonstrated this when she increased the activity of a protein, called ERK5, in mice. These animals learned new tasks faster and retained memories longer than mice that did not have the extra ERK5 activity. Although achieving these results in mice is not the same as achieving them in humans, Xia's work suggests that ERK5 could be a target for new medicines to improve learning and memory.
If successful, this could dramatically change the way conditions like Alzheimer's disease, Parkinson's disease, and even memory decline with normal aging are treated.