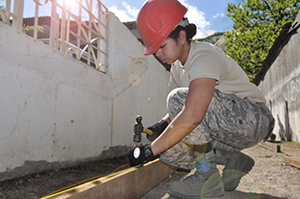 Women apprentices in construction trades reported feeling more confident in their ability to confront sexual harassment after participating in a mentorship program.
Photo:
Skeeze via pixabay.
Empowering women in construction trades to speak up against sexual harassment
"The harassment never really stops...Men don't want us there, so it is a constant, unstated hostile environment."
—Woman electrician in the Pacific Northwest
"It's like being under a magnifying glass every day you go to work."
—Woman carpenter in Seattle
For women working in construction trades, the #MeToo movement has been a long time coming.
Women plumbers, electricians, carpenters and other tradeswomen in the construction industry--estimated at just 3 percent of the nation's skilled trades workforce--have long faced the kinds of harassment that women in business, the media, the entertainment industry and beyond are now publicly protesting.
For women in trades, sexual discrimination is so pervasive that their gender alone creates a significant risk for on-the-job injuries and illnesses.
A four-year study led by researchers in the UW Department of Environmental & Occupational Health Sciences (DEOHS) is identifying serious safety and health concerns experienced by tradeswomen and exploring solutions to empower women to advocate for themselves.
"They lift too much, they carry too much, they work too hard, they do stuff that takes two people to do to prove that they can do the job, especially to naysayers."
— Retired woman electrician in Seattle
Women at risk
The study, called Safety and Health Empowerment for Women in Trades, is led by DEOHS research coordinator Hannah Curtis and Professor Noah Seixas. Using focus groups and a statewide survey of women and men workers, they documented the risks faced by women working in construction.
The researchers found that almost half of women construction workers felt discriminated against at work due to their gender, with more than half reporting that they pushed themselves past their physical comfort level at least half the time to get the job done.
Gender discrimination has a real impact on workplace safety. Women who took the survey were more likely than men to report at least one on-the-job injury in the past year and, among those injured who did not report the injury, women were more likely to list fear of layoff as the reason for not reporting.
Women construction workers reported a higher risk of injury at work and higher levels of stress compared to male counterparts.
 
Unsafe working conditions
Curtis said women described feeling like "perpetual apprentices" under constant pressure to prove themselves in the face of hostile working conditions that include:
Work environments that tacitly enable sexual harassment as a form of bonding among male construction workers.
Poorly designed safety equipment, including work gloves and fall protection harnesses that are too large for female workers, increasing the risk of on-the-job injuries.
Inadequate bathroom facilities, many without running water for handwashing.
A workplace culture that strongly discourages women from reporting problems like these for fear of job loss, reduced work hours or making themselves targets for additional harassment.
"The safety harnesses for tying off … are not made for women … If you were to fall off a building with a standard harness on, it would do more damage than good."
—A woman laborer in Vancouver, WA
The conditions they described are similar to those reported in another survey of construction workers nearly 20 years ago, Curtis said. "Seeing so little progress toward gender equity in construction is disheartening and frustrating."
In places like Seattle, it's also self-defeating, with the nation's hottest housing market and an unprecedented construction boom driving a growing need for skilled construction workers.
Mentoring increases confidence
The study led to a pilot mentorship program launched by the UW researchers in partnership with unions, apprenticeship programs and others that aimed to support tradeswomen in fighting back against harassment and advocating for safer worksites.
The project paired 15 women and men mentors across five trades with women apprentices. They communicated regularly to help the women problem-solve when they encountered discrimination on the job, with mentors providing guidance and support to help women identify solutions for themselves.
For example, one mentor helped an apprentice identify her coworker's behavior as sexual harassment, then explained the steps required to bring a formal complaint.
Over the six-month pilot project, women apprentices reported increased confidence in their ability to work safely, ask for help, report safety concerns and confront coworkers who acted inappropriately.
The researchers are currently talking with unions, apprenticeship programs and construction contractors about how to include this approach in existing mentoring and worker-support programs.
Funding and support for this project is provided by the state of Washington, Department of Labor & Industries, Safety and Health Investment Projects. Other partners include Washington Women in Trades; the Washington State Labor Education and Research Center; the Labor Education and Research Center at the University of Oregon; the Washington State Building & Construction Trades Council's Pre-Apprenticeship Construction Education program; leaders from local unions and apprenticeship programs. Other UW researchers involved in the project include Dr. Hendrika Meischke; Nancy Simcox; and Dr. Bert Stover.
---
–Jolayne Houtz is director of communications and public relations for the UW Department of Environmental & Occupational Health Sciences.