Return to 2017, Issue #2 issue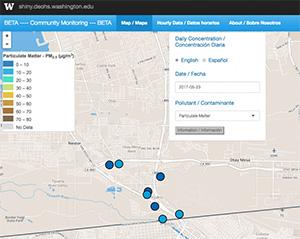 Screenshot of the new website where people can easily access data from the study's air monitors, found at www.syairstudy.org. 
Photo:
Courtesy of Vanessa Galaviz.
At the southern most part of California, the small community of San Ysidro is home to 30,000 residents who live in the shadow of the busiest border crossing in the world – the San Ysidro Port of Entry. An estimated 50,000 vehicles cross at this point along the US-Mexico border, letting their vehicles idle, as they wait on average between two to five hours to make it to the other side.
Little was known about the day-to-day exposures that San Ysidro residents experience. Residents have long complained that existing government air pollution monitors might not be capturing the variations in pollution and higher exposures in key sites near the crossing. The closest regulatory monitors are eight miles north and 11 miles east of San Ysidro.
Recently, thanks to a new grant provided by the California Office of Environmental Health Hazard Assessment (OEHHA), residents now have access to detailed air quality data for San Ysidro from a network of new air quality monitors that were established through a partnership between university researchers and community residents. Together the team is demonstrating how communities can effectively measure their own air quality – an innovative way to put science into practice by putting the power and decision-making around how air quality is measured in the hands of the community.
Currently, eleven monitors that measure fine particulate matter, carbon monoxide, nitrogen oxides, and ozone have been deployed at various sites in San Ysidro. The data from these monitors can be easily accessed from the study's new data portal website: www.syairstudy.org.
Edmund Seto, MS, PhD, an Associate Professor in the Dept. of Environmental and Occupational Health Sciences, who leads the study and whose research group developed the air monitoring system, has high hopes for changing how improved access to air quality data may help address environmental justice concerns in California communities like San Ysidro.
"It is revolutionary," Seto said during an interview. California has money set aside from the State's Cap-and-Trade program to target disadvantaged communities. The California Communities Environmental Health Screening Tool (CalEnviroScreen) is being used to assist the State in making these allocations. The money is dedicated to investing in places where the most vulnerable populations are exposed to the greatest pollution threats. There are large uncertainties in how environmental justice screening tools like CalEnviroScreen scores communities like San Ysidro, where detailed environmental data have not been routinely collected. The new monitoring data may serve to improve the accuracy of exposure estimates at the neighborhood level to address gaps in CalEnviroScreen. New community air monitoring initiatives have the potential help fill these data gaps.
The potential to improve CalEnviroScreen, which was developed by OEHHA, was a huge motivating factor for the San Ysidro Study. Vanessa Galaviz, PhD, MPH, who serves as the OEHHA manager for the project explained, "This is meant to turn the typical framework, of government and academia owning the data, around and put data into the hands of community as a result of making them part of the scientific process."
Indeed the process for establishing the new air monitors in San Ysidro was different from how government routinely conducts air monitoring. The team, which included partners from local community organization, Casa Familiar and researchers from San Diego State University started by learning about the concerns that residents had about air quality, and asking them where they would like to locate new air monitors. As an example, one of the monitoring sites is close to the border crossing, while another monitor is located in an elementary-school playground.
The partnerships are critical to the success of the project. San Diego State University and Casa Familiar are able to mobilize residents in San Ysidro throughout this process of setting up a new monitoring network, and using the data to inform policies and plans that have the potential to affect residents' exposures to air pollution. Also, a Technical Advisory Group, made up of local and state air quality stakeholders, meets regularly with the research team to help guide the work.
This framework of developing partnerships to improve environmental data collection is one Galaviz hopes will grow and be adopted statewide in California. "State efforts are making environmental justice a priority for disadvantaged communities," she said. Historically, populations in poverty, are often exposed to higher levels of pollution from environmental sources because such things as waste dumps and other industrial sources are sited near these communities.
The San Ysidro framework was modeled on work done in Imperial County, where Luis Olmedo was one of the leaders from Comite Civico Del Valle. The two border studies are merging some efforts to strengthen the work – and they've created the IVAN network: http://www.ivan-imperial.org/
Aside from informing environmental justice tools like CalEnviroScreen, the research team hopes data from the monitoring can impact the lives of San Ysidro residents in other ways. Once results are provided to the community about exposures, they will be able to move forward to advocate with state and other authorities for policy or other changes that could reduce exposures. A major redesign is underway with the border crossing, and it is possible that air pollution exposure information could influence that design. Or, in another example, children could be kept indoors during peak times that air pollution levels are high in the community.
"This is a win-win story about government being proactive," Seto said. "This is the California government showing that they want to do a better job." Policies can be written to dovetail with new data, he predicted.