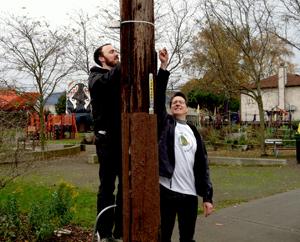 Researchers hang air monitors to test for diesel pollution in south Seattle.
Photo:
Samantha Keller
Residents of the Georgetown and South Park neighborhoods in Seattle's Duwamish Valley now know how much diesel exhaust they are exposed to, thanks to the researchers in our department and Puget Sound Sage, a nonprofit coalition in Seattle. A report on findings from the air pollution study are online at http://sites.google.com/site/thedeedsproject/home/technical-report.
A large volume of traffic travels through these south Seattle communities due to nearby highways, industry, train routes, and the Port of Seattle.
"Residents were most concerned about commercial truck traffic. They see these trucks travel through their neighbor- hoods every day. They wanted us to monitor pollution levels where people lived," said Julie Fox, a postdoctoral research scientist. Long-term occupational exposures to high concentrations of diesel exhaust have been linked to respiratory and cardiovascular health problems as well as cancer.
In response to community concerns and support from the Kresge Foundation, our department partnered with Puget Sound Sage to help residents measure levels of diesel exhaust.
"We developed a much more refined understanding of exposure—and the impacts of various sources of exposure— for this area of the city. We were able to provide detailed community-level data on pollutants that are markers of diesel exhaust," said Fox.
Researchers collected data over a two-week period in summer 2012 and winter 2012–2013 on four primary pollutants that serve as markers of traffic-related air pollution. They are: 1-nitropyrene, a polycyclic aromatic hydrocarbon that is a by-product of combustion from diesel engines, black carbon, and particulate matter less than 2.5 μm in diameter.
"Choosing diesel-specific markers limits direct comparison to other metropolitan areas, but gives us confidence that among the different sources of air pollution we characterized diesel exhaust," said Fox.
Results indicate that residents of South Park and George- town are likely exposed to higher levels of diesel exhaust than residents of Beacon Hill and Queen Anne, which are located atop hills and have less commercial truck traffic.
Also, within the two Duwamish Valley neighborhoods, pollution levels varied, even across small areas, and residents near busy roads and industrial areas faced higher levels of diesel exhaust pollution.
Other departmental researchers involved in the diesel exhaust exposure study include Professor Joel Kaufman; Jill Schulte (MPH, Environmental and Occupational Health, 2013); Sheryl Magzamen, a former postdoctoral research scientist; and Research Industrial Hygienist Nancy Beaudet.