Return to 2016, Issue #3 issue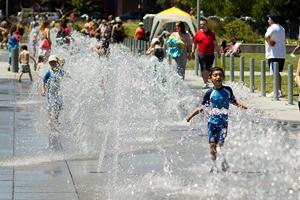 The environment influences children's health.
Photo:
CC - SeattleSummerFun.com.
A research team in our department was awarded more than $4.7 million from the National Institutes of Health to investigate how the environment influences neurodevelopment and asthma risk in children.
The grant was part of $157 million in national awards announced by the NIH for a multitude of projects under a seven-year initiative called Environmental influences on Child Health Outcomes (ECHO). The ECHO program will investigate how exposure to a range of environmental factors in early development — from conception through early childhood — influences the health of children and adolescents. The studies will target four key pediatric outcomes that have a high public health impact: airway health, obesity, neurodevelopment and birth outcomes.
The UW project is called the Prenatal and Early Childhood Pathways to Health or PATHWAYS.
Our UW-based PATHWAYS study is a microcosm of the national ECHO program, which capitalizes on collaboration among top scientists and existing research populations," said Catherine Karr, professor of pediatrics and environmental and occupational health at the UW who will lead the investigative team.