Return to 2017, Issue #1 issue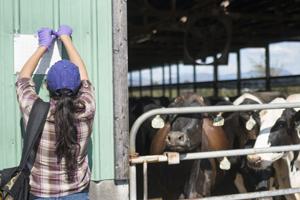 Pacific Northwest Agricultural Safety and Health Center dedicated to safe and healthy workers in agricultural, forestry, and fishing.
Photo:
Katherine Turner.
Five-year grant focuses on injury and illness prevention for vulnerable workforce 
The Pacific Northwest Agricultural Safety and Health Center (PNASH) at the University of Washington is focused on research that leads to solutions for safer and more sustainable workplaces in Northwest agricultural industries, including farming, fishing and forestry. Research of this kind requires active engagement with workers, employers and community groups, as well as with other academic researchers and state and federal agencies. Partnership is key to the center's 20-year history dedicated to the prevention of illness and injury among agricultural producers, workers, and their families.
Now, the PNASH Center has received more than 9.2 million dollars in grant funding from the National Institute for Occupational Safety and Health in the U.S. Centers for Disease Control and Prevention. The five-year grant will fund research and outreach projects at the University of Washington, Washington State University, and Oregon State University, with a focus on work hazards that are the most serious, affect the greatest number of workers, and where research will make a difference.
"We are fortunate that Congress sees this work as critical to our nation's mission to provide safe and healthy workplaces. With this award we are responding directly to the needs in our region. Farming, fishing and forestry are growing and changing industries, critical to our economy and to sustainable rural communities," said Professor Richard Fenske, who founded and continues to direct the PNASH Center.
Jobs in agriculture consistently rank among the most dangerous. Fatality rates in farming are six times higher than all other industries, and fatality rates in commercial fishing and logging are 32 times higher.
PNASH is one of 10 regional research and education centers focused on agricultural safety and health around the country, and one of two in the West. PNASH projects and partners reach across Alaska, Idaho, Oregon, and Washington.
Two newly-funded projects continue a collaboration begun with the Washington state dairy industry. A prior PNASH Center study found that dairy workers in Washington State have an injury rate that is much higher than the state average. Hazards, such as animal-related injuries, slips, trips and falls, are exacerbated by a growing workforce that has little previous experience in this industry.
PNASH Center researchers led by Professor and Department Chair Michael Yost will partner with representatives of the dairy industry to address the highest-risk work hazards. The project launches with an in-depth analysis of workers' compensation claims data and review by industry and worker advisors. Researchers will then continue to work with these advisors to develop and field-test interventions to avoid common injuries, and create a guide on best practices.
The second part of the collaboration with the dairy industry will investigate the "hygiene hypothesis," a theory that has gained much attention. As populations have moved away from farm environments into towns and cities, it is thought that exposure to diverse bacteria has been reduced, and that this change may have a negative impact on people's resistance to allergens and disease. However, how working and living on a farm can positively impact health is not currently well understood. To find out more, a study led by Professor Peter Rabinowitz will involve a team of University of Washington and Washington State University researchers. They will measure differences in gut bacteria between dairy workers and non-dairy workers. They hypothesize that spending time on a dairy will increase the diversity of bacteria in the gut, potentially providing health benefits to workers.
A project led by Dr. Laurel Kincl, an assistant professor in the College of Public Health and Human Sciences at Oregon State University, will investigate the causes of traumatic injuries in commercial fishing in Oregon. The research team will gather vessel disaster and casualty data to build a tracking system for assessing hazards and for developing safety solutions specific to the needs of different types of vessels and fisheries.
Two additional projects focus on reducing exposure to pesticides. The first, led by Professor Fenske, aims to evaluate the causes of pesticide drift. The findings will be used to develop tools and training that farm managers can use to reduce drift events that result in worker and community exposures.
The second, led by Research Scientist Kit Galvin will be a collaboration with an Expert Working Group made up of farm managers, forest service managers, and pesticide handlers, to identify and evaluate practical solutions to minimize pesticide handler exposures when using hand-held spraying systems.
The last project builds on previous heat-related illness (HRI) studies. Dr. June Spector will investigate the association between hot night-time farmworker housing conditions and the risk for HRI during the work day. Then, partnering with managers and workers, she and her team will develop and field-test a work-based intervention program.
This new funding will allow the PNASH Center to expand its engagement activities and further build its network with Northwest agricultural communities and industries, allowing the center to share solutions that promote workplace health and safety.