Return to Spring/Summer 2013 issue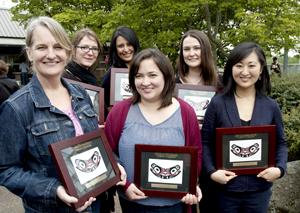 Award winners from the department at the 2013 School of Public Health Celebration of Public Health. Front row (l to r): Adrienne Hidy, Terumi Capeling, Momoka Nakamura; back row (l to r): Pamela Roqué, Vanessa Galaviz, Lyndsey Banks.
Photo:
Elizabeth Sharpe.
Two of our doctoral students won this year's top honors among the School of Public Health's five departments. Four additional outstanding scholars were recognized at the school's Celebration of Public Health and our department's Graduation Recognition Ceremony.
Cynnie Curl
Cynthia "Cynnie" Curl was named the school's Magnuson Scholar for 2013–2014. Curl is one of six students in UW Health Sciences to receive $30,000 to support her studies. The scholars were selected on the basis of academic performance and potential contributions to research in the health sciences. The award is named in memory of Senator Warren G. Magnuson and his healthcare legacy.
"I'm so honored," said Curl. "I'm a non-traditional student because I'm doing this while trying to work." She works with Professor Joel Kaufman in the Multi-Ethnic Study of Atherosclerosis and Air Pollution, where she manages the 10-year, $30 million grant funded by the US Environmental Protection Agency (EPA).
Curl studies human exposures to pesticides from diet and is interested in understanding if these exposures result in health effects. In particular, she is researching whether eating an organic diet can provide a health benefit. Curl expects her work to be among the first to evaluate the potential for a link between pesticides, diet, and health in older adults.
She previously received the highly competitive STAR fellowship sponsored by the EPA.
Vanessa Galaviz
Vanessa Galaviz earned this year's Gilbert S. Omenn Award for Academic Excellence at the doctoral level. The award is named for a former dean of the School of Public Health.
Galaviz has a strong interest in protecting the environmental health of minority and low-income communities and a passion for mentoring undergraduate and high school students. Her doctoral research on diesel exhaust exposures combines these passions, because diesel exhaust exposure disproportionately affects low-income and minority communities. Her study addresses cross-border health issues along the US-Mexican border.
Lyndsey Banks
Lyndsey Banks was given the department's Outstanding Master's Student Award. Her research looks at the pros and cons of using mobile monitoring methods to measure air pollution near roads, which could have practical applications for communities. In April, she led the coordination of a campus-wide event to mark Worker Memorial Day.
Anna Fretheim
Anna Fretheim received the 2013 Jack Hatlen Scholarship, named for one of our influential emeritus faculty and awarded yearly to a promising undergraduate. She is co-leader of the Student Environmental Health Association (SEHA). Last summer she interned with the state's Office of Shellfish and Water Protection. This fall she will start a Master of Public Health program in Environmental Health at Emory University.
Momoka Nakamura
Momoka Nakamura was given the department's Outstanding Undergraduate Award. She has made the Dean's List every quarter at UW and has been an active leader in SEHA. Last summer she was one of four students selected nationally for an environmental health internship at the Centers for Disease Control and Prevention in Atlanta. She will graduate this fall with a double degree in Environmental Health and Environmental Studies.
Pamela Roqué
Pamela Roqué received the department's Outstanding Doctoral Student Award. She entered the Environmental Toxicology program after a career in a fine art sculpture foundry. Her curiosity about health hazards in the arts led her back to school at age 36. Roqué's research is related to fetal alcohol syndrome. She received a fellowship funded by the National Institutes of Health to support her studies. She has broad interests, spanning environmental justice and international and labor law. She also has a keen interest in policy and regulations and how they affect public health.