Return to 2017, Issue #1 issue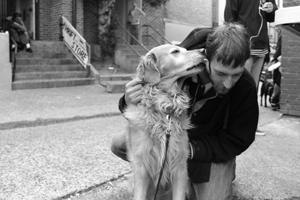 Many people who are homeless rely on pets as for loyal companionship, protection, and a source of accountability.
Photo:
Gemina Garland Lewis
Photographer Documents Homelessness and Their Pets 

Documentary photographer and One Health researcher Gemina Garland-Lewis is bringing attention to the benefits of pets to people who are homeless in order to support the need for a more permanent "One Health" clinic with access to healthcare and other resources. Many people who are homeless rely on pets as for loyal companionship, protection, and a source of accountability. Often the public does not realize that people who are homeless often put their pets' needs ahead of their own, ensuring that their animals have food and medical care before they themselves do. On December 14, 2016, at Town Hall Seattle, Garland-Lewis presented on the photographs and others shared how they would be served by a clinic of this kind. Visit the project website to learn more.
DEOHS Study Influences Campus-Wide Recycling Programs



A campus-wide guide for recycling eligible lab materials and a pilot recycling program for nitrile gloves were influenced by findings of a study in our department. Research Scientist Jen Krenz, led the study of laboratories in our department and found that half of lab trash is compostable or recyclable.  Nearly one-third of lab trash is paper towels and 24 percent is nitrile gloves. The study was funded by a Green Seed Fund grant from the University of Washington Sustainability Office and the Sustainable Technology, Alternate Chemistry – Training and Education Center. A free four-part webinar series is available on the research study. Others involved in the study include Professor Christopher Simpson, Continuing Education Coordinator Jill Tepe, and Continuing Education Director Nancy Simcox.
Students Present HIA to Anacortes' City Council

Students in a graduate course taught by Affiliate Professor Andrew Dannenberg and Research Professor Emeritus Fritz Wagner (Department of Urban Design and Planning) studied the health impacts of the City of Anacortes' South Commercial Avenue redevelopment project. The students presented their findings to Anacortes' city council on November 14, 2016.
New Sheldon D. Murphy Endowed Chair

Professor Terrance Kavanagh is the new Sheldon D. Murphy Endowed Chair in Toxicology and Environmental Health. He directs the Interdisciplinary Center for Exposures, Diseases, Genomics and Environment and the UW Nanotoxicology Center and co-directs the Predictive Toxicology Center. Kavanagh investigates the adverse effects of chemicals and other materials to understand the mechanisms by which they cause toxicity and inflammation. He also studies the role of antioxidants and is developing more accurate in vitro models to test chemicals for potential risk to humans. The endowment honors the memory of Sheldon Murphy, former professor and chairman of the department, who played a key role in the development of toxicology as a discipline.
Staff Receives Tobacco Studies Fellowship


Jacob Delbridge, who is an administrative coordinator in our department and a first-year MPH student in the Department of Health Services, received a $1500 Tobacco Studies Fellowship from the Tobacco Studies Program in the Department of Health Services. The two-year fellowship provides an opportunity for students to gain experience with a tobacco control agency or tobacco-related research project. Delbridge is pursuing a concentration in health systems and policy.
2016 Breysse Memorial Lecture

The 2016 Peter A. Breysse Memorial Lecturer was Steven Shea, a professor in Oregon Health & Science University - Portland State University's School of Public Health and director of the Oregon Institute of Occupational Health Sciences. He gave a presentation on the adverse effects of night shift work on health at the Northwest Occupational Health Conference on October 19 and the next day at our Environmental Health Seminar. The Lectureship was established by the Breysse family and friends in honor of Peter Breysse, who was associate professor emeritus in the department. Three Breysse family members joined the department for the Memorial Lecture and the reception that followed. Pictured in the photo are some of the Breysse family with Professor and Chair Michael Yost (far left) and Steven Shea (far right).
Workplace Lead Discussion on KEXP 


PhD student Rachel Shaffer and Affiliate Professor Steven Gilbert were featured on Diane Horn's Sustainability Segment of Mind Over Matters on KEXP in October. They discussed the problems associated with workplace lead exposure resulting from inadequate state and federal occupational lead standards. The segment podcast is free from i-Tunes.
One Health Day at UW 


November 3 was the first international One Health Day. One Health is a new concept uniting human, animal, and environmental health. Our Center for One Health Research, one of the first academic One Health centers to be located in a school of public health, hosted a live and Facebook live-streamed event. It featured Carol Bogezi, who is in the PhD degree program in wildlife science program in the UW School of Environment and Forest Sciences and a Bullitt Foundation's Environment Leadership Award recipient. She has been investigating factors that influence human and wolf coexistence in Washington state, surveying ranchers about their attitudes about wolves, and the influence of economic incentives in promoting agro tourism to see wolves in a safeguarded habitat.
MoDRN:U Modules 


The Molecular Design Research Network (MoDRN) has developed a free series of modules designed for undergraduates to introduce concepts of green chemistry and sustainable chemical design. MoDRN partners researchers from our department with Yale University, Baylor University, and The George Washington University.
Two Faculty Appointed to New NORA Cross-Sector Council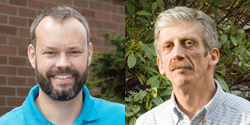 Professor Emeritus John Kissel and Professor Scott Meschke were appointed to the new Immune, Infectious and Dermal Disease Prevention Cross-Sector Council. The council is part of the National Occupational Research Agenda (NORA) of the National Institute for Occupational Safety and Health (NIOSH). NORA is entering its third decade with seven new cross-sector councils to address industry-wide problems and promote improved practices in the workplace. Learn more.