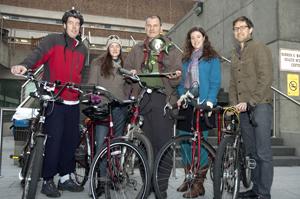 Ride in the rain winning team (l to r): David Hardie, Susanna Wegner, Boris Reiss, Rachel Wood, and Chase Williams.
Photo:
Elizabeth Sharpe
Department faculty, staff, students, and alumni are highlighted.
We welcome two new faculty members. Associate Professor Peter Rabinowitz joins us from Yale University, with a joint appointment in the Department of Global Health. He directs the Human Animal Medicine Project, which explores linkages between human, animal, and environmental health in a "One Health" paradigm. Associate Professor Edmund Seto comes from University of California, Berkeley. His research examines air pollution and noise exposure in built environments and infectious agents in global health.
MS student Ju Young (Julie) Park received a $700 award from the Neurobehavioral Teratology Society to present her research on prenatal effects of domoic acid on mice at the society's annual meeting in June in Tucson, Arizona. At the same meeting, PhD candidate Susanna Wegner was awarded the Wilson Student Presentation Award for her talk on a testicular co-culture and male reproductive development.
In August, a contingent of DEOHS faculty, staff, students, and alumni attended the International Society of Exposure Sciences conference in Basel, Switzerland. Two graduate students won honors: Cynnie Curl (PhD candidate) received third place for her poster on dietary exposure to organophosphorus pesticides, and Jill Schulte (MPH, Environmental and Occupational Health, 2013) received an honorable mention for her poster on air sampling of traffic pollutants.
DEOHS Research Scientist Jessica Lundin, a doctoral candidate studying environmental toxicology in the Department of Biology, was awarded the best student oral presentation at the International Conference on Polycyclic Aromatic Compounds (PACs) in September at Oregon State University. Her research evaluated levels of PACs in the scat of caribou, moose, and wolves from the Alberta Oil Sands.
Our Occupational and Environmental Health MPH degree program now offers a special emphasis in Occupational and Environmental Health Nursing for students with a bachelor's degree in Nursing. After graduation they can sit for board certification by the American Board for Occupational Health Nurses.
Professor Terrance Kavanagh is the new director of the Center for Ecogenetics and Environmental Health (CEEH), replacing Professor David Eaton who founded and led the Center for 17 years. Eaton is now dean of the Graduate School. Professor Evan Gallagher is the new director of the UW Superfund Research Program, replacing Professor Harvey Checkoway, who took a faculty appointment at the University of California, San Diego.
In June, Tania Busch Isaksen (PhD candidate) was elected co-chair of undergraduate programs for the National Environmental Health Science and Protection Accreditation Council.
CEEH's Marilyn Hair—who is involved with community outreach—contributed to Seafood 101, a Newspapers in Education supplement in The Seattle Times published on October 6 and coordinated by the National Oceanic and Atmospheric Administration. Hair and Liz Carr (Washington State Department of Health) contributed content on the health effects of eating seafood.
Professor Richard Fenske was the keynote speaker at the International Symposium of Environmental Health in Seoul in October, sponsored by the Korean Society of Environmental Health. During his visit, he met with students and faculty at Seoul National University and Yong In University and presented seminars on community exposures to pesticides.
Our department was instrumental in the Northwest Occupational Health Conference in Seaside, Oregon, in October.
Our Continuing Education Program co-sponsored a short course on biomarkers and workplace exposures. Glenn Talaska (MSPH, 1982) of the University of Cincinnati delivered the Peter A. Breysse Memorial Lecture, established in memory of one of our founding faculty members. Martin Cohen, Lee Montieth, Michael Yost, Gerry Croteau, William Daniell, Catherine Karr, Allison Crollard, Carlos Domínguez, Bert Stover, and Noah Seixas presented at the conference.
Senior Lecturer Charles Treser chairs the Faculty Council on Student Affairs (FSCA) this year. The FCSA considers all issues related to UW students and includes representatives from the faculty, professional staff, libraries, and graduate and undergraduate student associations.
Professor Michael Yost participated in the "Climate Change and the Bottom Line" conference, held October 31 at UW's Foster School of Business. He told an audience of 90 that extreme weather, compounded by poor air quality and asthma, will have an increasingly dramatic effect on human health and healthcare costs.
Research Professor Gary Franklin received the 2013 Warren Featherstone Reid Award for Excellence in Health Care. The award is chosen annually by the governor of Washington state in conjunction with the secretary of health, and recognizes contributions to cost-effective and quality healthcare services.
The UW Center for Child Environmental Health Risks Research celebrated its 15th anniversary this fall. Researchers are studying children's susceptibility to pesticides and their potential effect on normal development and learning. Directed by Professor Elaine Faustman, the center is funded by the US Environmental Protection Agency and the National Institute of Environmental Health Sciences.
John Wiesman, Washington state's new secretary of health and a DEOHS advisory committee member, spoke at our Environmental Health Seminar in November on "Environmental public health: Balancing science, policy, and practical reality." Wiesman was appointed to lead the health department in April, after serving nearly nine years as director of Clark County Public Health.
A DEOHS group, Cyclones II, topped 188 UW bike fteams to win a Ride in the Rain Trophy for averaging the most commute trips. Team captain Boris Reiss (PhD student) was also selected as a 2013 Bike Hero for encouraging bicycling and inspiring new and veteran cyclists.
Christa Fagnant, a research engineer working with Associate Professor Scott Meschke, helped explain global water concerns to young philanthropists at the Washington Global Health Alliance "Party for the Health of It" on November 9.
Samantha Serrano (MS, Environmental Health, 2013), Research Industrial Hygienist Nancy Beaudet, and Associate Professor Catherine Karr presented findings from a literature search on the effects of noise on children at a public meeting in Coupeville, Washington, on November 19. Serrano was hired by the Citizens of the Ebey's Reserve, a group of residents concerned about the Whidbey Naval Air Station's training flights.