Staying Healthy While Raising Urban Chickens
More and more city folk are raising chickens in their backyards. Veterinarian Heather Fowler tells us how to lessen the risks of contracting Salmonella from these feathered friends. Fowler is a PhD student in our department.
An Undergraduate's Alternative Spring Break
Sara Mar spent her spring break teaching environmental education to first- through sixth-grade students at the Quileute Tribal School in La Push, Washington. Mar is majoring in Environmental Health and completed her second year in the undergraduate program. The Environmental Alternative Spring Break program was through the UW's Pipeline Project, a K-12 outreach program that connects undergraduate students with educational and service opportunities in local and regional schools and community organizations through tutoring and mentoring. Mar designed her own curriculum to teach the students at the Quileute Tribal School about watersheds and water filtration. "5th and 6th grades were my favorite," she said. "They got so excited about doing science." To expose them to what a scientist does, she planned an experiment using filters she made out of plastic water bottles and filled with variables of gravel, soil, and sand, to mimic what sediment in the earth does to clean groundwater. They worked together to form a hypothesis, observe what happened in the experiment, and then discuss what happened. She hopes to return to La Push next year. Read more about the experience. Photo courtesy of Sarah Mar.
School of Public Health All-School Reunion

In April the School of Public Health (SPH) hosted its first all-school reunion in celebration of its 45th anniversary. More than 120 attendees, including alumni spanning the classes of 1949 to 2014, gathered to talk, nibble, and sip at Touchdown Terrace in Husky Stadium. Ron Sims, chair of the Washington Health Benefits Exchange Board, former King County Executive and current Chair of the SPH Dean's Council, delivered a compelling keynote address on the necessity of public health education and practice in the 21st century. The event connected alumni from across departments and gave them a chance to catch up with classmates and faculty.  Stay tuned for the reunion in 2020, to celebrate the 50th anniversary of SPH! Photo by Anna Swan.
Students Meet DEOHS Donor-Dr. Castner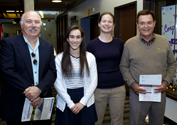 Graduate students Jane Pouzou and Victoria Balta—who received research support from the Russell L. Castner Endowed Student Research Fund—met with Dr. Russell Castner on May 28, 2015. Dr. Castner received his undergraduate degree in Environmental Health in 1971. He went on to get a degree in dentistry and open his own practice in Shoreline. Pouzou is a fourth year doctoral student, and Balta completed her first year as an MPH degree student. Photo by Sarah Fish.
2015 Award Winners
Department faculty, staff, and students were honored with awards from our department (DEOHS), the School of Public Health (SPH), and the University of Washington this spring. Read more about our award winners. Photo by Elizabeth Sharpe

Elaine Faustman and John Kissel, DEOHS Graduate Student Advisory Committee's Outstanding Faculty Mentors
Joel Kaufman, School of Public Health SPH Outstanding Faculty Mentor
Alison Laing, DEOHS Distinguished Staff Award
Elisabeth Lara, DEOHS Outstanding Undergraduate Student Award
Madison McInnis, Jack Hatlen Scholar (DEOHS)
Jonathan Nagata, DEOHS Outstanding Master's Student Award
Trevor Peckham, Gilbert S. Omenn Award for Academic Excellence (Master's student category)
Eric Vigoren, SPH Outstanding Community Service by Staff Award
Alex Walton, Gonfaloniere (UW)
Sheldwin Yazzie, DEOHS Outstanding Doctoral Student Award
Protecting Forests to Ensure the Quality of Our Drinking Water
The majority of Washington State's drinking water comes from forested watersheds. Forest practices—including timber harvest, road construction, and herbicide application—can affect water quality. Although state regulations are designed to protect our natural resources, additional strategies can further safeguard our drinking water sources. Jonathan Nagata worked with the Washington State Department of Health to develop and coordinate a series of workshops to help water treatment operators and managers implement these source water protection strategies. Nagata graduated in Spring 2015 with an MS in the Department of Environmental and Occupational Health Sciences at the UW School of Public Health and an MPA from the UW Evans School of Public Policy and Governance.
Unusual Guest Invited to DEOHS

An unusual guest was invited to join a class this week. Little more than two and half feet tall and 200 pounds, Drama even sports high tops when the floor is slick.   Drama—a miniature horse—is just one of nine different animal species certified by Pet Partners, whose national director spoke to students in a class in our department. Service animals are trained to assist people with disabilities. Therapy animals, on the other hand, have a special aptitude for interacting with people and, in addition to university campuses, visit pediatric centers, cancer wards, even dentists' offices.   The physical, emotional, and psychological benefits of the human-animal bond were among the topics covered in the Introduction to One Health Course (ENV H 490/590 C) taught by Associate Professor Peter Rabinowitz. Clinically trained veterinarian Heather Fowler, who is studying for her PhD degree in our department, helps run the course.   After all the ohs and ahs, the selfies, and pets and hugs around her neck, Drama considered her job well done. She looked forward to the reward waiting in the car: mini-carrots. Photo by Gemina Garland-Lewis.
Paws-on Science

A team from our department participated in the Paws-on Science Husky Weekend at the Pacific Science Center, April 10-12, 2015. The Environmental Health booth, organized by graduate student Jonathan Nagata, featured hands-on educational activities for kids. During the event, UW scientists share their work through interactive activities with thousands of adults and children. View photos from the event. Photo by Sarah Fish.
Health Impact Assessment of the Delridge Multimodal Corridor Project

Students in a Health Impact Assessment (HIA) course teamed up with the Seattle Department of Transportation and the Seattle Department of Planning and Development to conduct an HIA of the Delridge Multimodal Corridor Project in West Seattle. The project aims to transform the area crossed by busy roads into safer and healthier public spaces. Offered spring quarter, the course (EnvH 536/UrbDP 536) is taught by Affiliate Professor Andrew Dannenberg and Associate Professor Edmund Seto in our department and Professor Fritz Wagner from the Department of Urban Design and Planning. Students learn the principles behind an HIA and how to conduct one. The students came mostly from the School of Public Health, College of Built Environments, and Evans School of Public Policy.  Their interdisciplinary class discussions helped strengthen the final report as it brought forward ideas and concerns not normally discussed within each of their disciplines. HIA is a public health tool for informing decision-makers across sectors about the potential health impacts of proposed projects and policies. Find out more about the project and read the HIA.
S'Klallam Children's Book
Author and Port Gamble S'Klallam tribal member Tleena Ives developed a bi-lingual children's book, taʔt̕ə́wəsnaʔ Star, based on discussions she had with young mothers in the Together for Children Mothers Group she leads. In collaboration with the Center for Ecogenetics and Environmental Health Native TEACH Project and with support from a Supplement Grant from the National Institutes of Environmental Health Sciences, researchers from Tribal communities in the Pacific Northwest held conversations about what environmental health means in their communities. The children's book—in both S'Klallam and English—captures the hopes and dreams the mothers have for their children and features the artwork of eight S'Klallam artists. The Book Release was held on March 31, 2015 at the tribe's longhouse near Kingston. The event was attended by 125 adults and children. Learn more about the children's book. Photo by Marilyn Hair.
Faculty Joins Green/Duwamish Watershed Advisory Group

Associate Professor William Daniell is on the Green/Duwamish Watershed Advisory Group to devise a strategic plan to coordinate projects and programs across the entire Watershed by using the best available science, taking advantage of emerging technologies, and delivering the best possible outcomes for our investments. The group was convened by the King County Executive Dow Constantine and Seattle Mayor Ed Murray along with the University of Washington Green Futures Lab and Bullitt Foundation who are behind the Green/Duwamish Watershed Strategy, with the aim to build healthy communities, create more economic opportunity, and reduce air and water pollution in the 500-square-mile Green/Duwamish Watershed. Photo by Sarah Fish.

Leadership in Environmental Health
Principal Lecturer Charles Treser was recognized by the Environmental Health Division of the Public Health - Seattle & King County with their first ever "Leadership in Environmental Health Award."  He received the award on May 19, 2015 at the 2015 Public Health - Seattle & King County Environmental Health Services Division Annual Conference. Photo by Tony Bui.