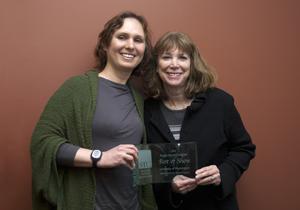 Elizabeth Sharpe (left) and Cathy Schwartz accepted the "Best of Show" award for the DEOHS 2009–2011 Biennial Report at the Society of Technical Communication Showcase event.
Photo:
Sarah Fish.
Department faculty, staff, students, and alumni are highlighted.
DEOHS Alumni--Thank You! Thank you for participating in a survey regarding your educational experience in the department and your career post-graduation. Your feedback is important.The survey results will help the department evaluate its environmental and occupational health sciences degree programs and how well these programs serve graduates in their careers. If you have not yet responded, you can still complete the survey online. Use the unique sign-in code from the letter received and log in here: http://www.opinion.wsu.edu/healthscience/.
New faculty appointments included: Debra Cherry—adjunct associate professor, William Parks—affiliate professor, and Curtis Klaassen—affiliate professor.
Associate Professor William Daniell is the new Assistant Dean for Graduate Studies and director of the MPH Curriculum in the School of Public Health.
Adjunct Assistant Professor Sheela Sathyanarayana was named chair of the US Environmental Protection Agency's (EPA) Children's Health Protection Advisory Committee, which advises the EPA on how best to consider children's health in its policies and regulations.
The Pacific Northwest Agricultural Safety and Health Center produced two new videos on farmworker ladder safety and heat illness prevention.
Heather Fowler, a PhD student in Occupational and Environmental Hygiene, was named in Veterinary Practice News' annual list of distinguished practitioners and academics to watch in 2014.
Alan Rossner (MS, Environmental Health, 1986) was elected a member of the Board of Directors for the American Conference of Industrial Hygienists. Rossner directs the Environmental Health Science and Environmental Science & Policy programs at Clarkson University.
On February 25, the Center for Ecogenetics and Environmental Health held a Public Health Café on the human microbiome at which Associate Professor Scott Meschke and science writer Sally James presented.
District VIII of the Council for Advancement and Support of Education (CASE) recognized the department's 2014 Calendar with a Gold Award and two Environmental Health News articles ("The fish we eat" and "A living building") written by Communication Director Elizabeth Sharpe with Bronze Awards. Members of the 2014 Calendar team were staff members Sarah Fish, Stacey Holland, Patrick Lennon, Elizabeth Sharpe, Jon Sharpe, and faculty members Janice Camp, Lee Monteith, Marilyn Roberts, Charles Treser, and Michael Yost. Cathy Schwartz was the calendar's graphic designer. Adrienne Hidy also provided input.
The DEOHS 2009–2011 Biennial Report received "Best in Show" from the Puget Sound Chapter of the Society for Technical Communication. The highest award given, the report topped all other print and electronic submissions. Members of the report team were Chair David Kalman, faculty Janice Camp, and staff Sarah Fish, Marcy Harrington, Adrienne Hidy, Julia Paulsen, Cathy Schwartz, Elizabeth Sharpe, and freelance writers Laura Cooley and Kathy Hall.
Affiliate faculty Steven Gilbert's book, A Small Dose of Toxicology, was published in Chinese.
Susan Searles Nielsen, research scientist, is quoted in the March 2014 issue of O, The Oprah Magazine on her study that found eating peppers was associated with a decreased risk of Parkinson's disease.
Professor Sverre Vedal spent five months at the Chinese Research Academy of Environmental Sciences in Beijing in 2013.
In December, affiliate faculty Andrew Dannenberg returned from five weeks teaching in Australia and New Zealand, sponsored by the Fulbright Specialist Program. He gave lectures related to health and the built environment.
Professor Elaine Faustman and UW National Childrens Study (NCS) staff members Eric Vigoren and Mary Ann Barnard received Plank Awards for Public Health Service from NCS Director Steven Hirschfeld, who is a captain in the Commissioned Corps of the US Public Health Service. The Plank Award is a maritime award for crew members who are present at a ships commissioning. This honor recognizes the NCS teams contribution at the start or "commissioning" of the study.
With Washington Department of Ecology staff, Professor Evan Gallagher and PhD student Andrew Yeh are identifying the ecological effects of chemicals of emerging concern on Puget Sound fish. In addition, Gallagher participated in a National Water Research Institute panel, advising the Lacey, Olympia, Tumwater, and Thurston County Clean Water Alliance on the environmental and human health risks of reclaimed water distribution.
On March 11, a handful of staff and students visited Interlake High School in Bellevue, Washington, and discussed GMOs in five different tenth-grade health science classes.
DEOHS faculty Janice Camp and Richard Gleason coordinated a sold-out course on the process safety management standard, focused on ammonia and taught by Amy Duz for the Governors Agriculture Safety Day on February 19 in Yakima, Washington.
A new departmental seminar series will explore the "Future of Occupational Health and Safety." Results of the conversation will help our department and school frame issues for research, teaching, and community engagement, both locally and globally, in the coming years. On May 1, the first in the series of conversations was led by Hester Lipscomb (Duke University), Hans Kromhout (Utrecht University, The Netherlands), David Bonauto (SHARP), and Theo Vos (UW Institute for Health Metrics and Evaluation).