Return to Spring/Summer 2013 issue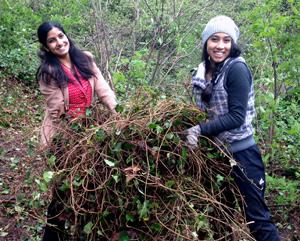 Students in the department volunteered at one of three locations for the April 6 School of Public Health Service Day—part of National Public Health Week. They included: Ornwipa Thamsuwan, Jon Nagata, Trevor Peckham, Kristin Liu, Tyler Nicholas, Kristina Blank, Becca Ticknor, and Wafa Tafesh (at right in photo above). Staff member Phillip Buff also participated.
Photo:
Trevor Peckham.
Chair and Professor David Kalman announced his plan to step down as chair of the department, a position he has held for 15 years. A chair search will take place in 2013–2014. Kalman will remain on faculty and active in the department.
Several faculty members have been appointed or promoted: Michelle Averill to acting assistant professor; Janice Camp to principal lecturer; Chris Carlsten to affiliate associate professor; and Tim Takaro to clinical professor.
Professor (and Dean of the Graduate School) David Eaton was named a member of the National Institute of Environmental Health Sciences (NIEHS) Council.
Professor Elaine Faustman was appointed to the US Environmental Protection Agency Fracking Committee.
During Paul Anastas' (Center for Green Chemistry and Green Engineering, Yale University) visit to Seattle in May, he and David Kalman met with Governor Jay Inslee's staff about green chemistry initiatives in Washington State.
Undergraduate Program Manager Trina Sterry is involved with the Food Exploration Living Learning Community in Mercer Court, one of the residence halls on campus. The learning community pairs students with similar interests together and includes activities and opportunities centered around food. It is sponsored by the School of Public Health, College of the Environment, and Housing and Food Services.
Sterry participated in the Native Health Career Day at Northwest Indian College on April 24.
Research Technologist Euvin Kim and his family are the March of Dimes Pierce County Ambassador Family. Kim, whose daughter, Hana, was born early, raised $6,870 as part of the organization's May 18 walk in Tacoma.
Faculty, staff, and students participated in the American Industrial Hygiene Association Conference and Expo, May 18–23, in Montreal, Canada, and along with alumni, took home honors. Awarded Distinguished Fellow: Senior Lecturer Emeritus Lee Monteith, Alan Rossner (MS, Industrial Hygiene and Safety, 1986), and Joe Coble (MSPH, Industrial Hygiene and Safety, 1984). Jeffery Lee Award: Paul Demers (MS, Industrial Hygiene and Safety, 1987); Top Volunteer Award: Don Garvey (MSPH, Industrial Hygiene and Safety, 1982). Two graduate students took home best poster awards: Boris Reiss and Andrew Forbes.
Senior Lecturer Martin Cohen produced a training video on the use of respirators for healthcare workers.
Amanda Gassett, research scientist in our department and biostatistics graduate student, won the Outstanding Master's Student Award from the Department of Biostatistics.
Two undergraduate students majoring in public health, José Carmona and Nohely Diaz, will be Summer Environmental Health Interns in the Pacific Northwest Agricultural Safety and Health Center. They are particularly interested in environmental health disparities that affect migrant and seasonal agricultural workers in rural Washington, where they themselves were born and raised. The internships are funded by the Stipends for Training Aspiring Researchers (STAR) Program, which is part of the UW Health and Sciences Minority Students Program.
Undergraduate Andy Tang received a GO! Scholarship funded by the Washington State Legislature to participate in a four-week study abroad exploration seminar in Santiago, Chile, focused on public and mental health care systems.
Junior Tessa Concepcion was named the 2013 Harvard Multidisciplinary International Research Training Program Double Eagle Scholar. She will travel to Chile and help evaluate sleep problems in children.
Rosie Schaffer, manager of the Environmental Health Laboratory, volunteers with the Radio Amateur Civil Emergency Services group for the Emergency Services Coordinating Agency, which supports government emergency management and service agencies during an emergency or disaster. Schaffer also helps support several charity events, transmitting information along the route.
On May 21, Research Industrial Hygienist Gerry Croteau presented in a webinar on reducing occupational lead exposures sponsored by the Northwest Center for Public Health Practice.
Annie Bruck, assistant director of our Continuing Education Programs and affiliate assistant professor in the UW School of Nursing, launched an online and in-person hybrid occupational health nursing course.
Out of 167 applications, seven students were selected for the NIEHS-funded Environmental Health Research Experience Program, which is a nine-week summer program for undergraduate students, particularly those from underrepresented minorities, interested in environmental health sciences research. Students work with leading scientists and give poster presentations on their research at the Undergraduate Summer Research Symposium in August. Students selected include: Madison Baxter (Baylor University), Mallory Bell (Northwestern University), Adriana Falcon Vazquez (University of Puerto Rico), Jeron Jacobsen (University of Wisconsin, Eau Claire), Yesinia Jaramillo (University of California, Davis), Kelsey Robertson (Santa Clara University), and Allan Somers (Salish Kootenai College).
In Memoriam
Pamela Deutsch (MS, Industrial Hygiene & Safety, 1990) passed away May 14 at age 51 after a long illness. She grew up in Eugene, Oregon. After receiving her bachelor's degree, Deutsch worked in the US Congress, then in the Massachusetts Health Department. She did graduate studies at Harvard University and the University of Washington, where she was the first student in DEOHS to study ergonomics. She went on to work for the Occupational Safety and Health Administration and helped start the Washington Committee for Occupational Safety & Health, a nonprofit organization that brought academics and labor groups together.
Comings & Goings
Helen Lee replaces Alicia Pearce as the Exposure Science program assistant, beginning June 17.
Ke'ale Louie left Professor Evan Gallagher's laboratory to begin dental school, and Richard Ramsden joins the group.
Research Coordinator Kathleen Egan (Occupational Epidemiology and Health Outcomes Program) has left to travel around the world.
Don Lofgren is a new research industrial hygienist in the Field Research and Consultation Group.
The Multi-Ethnic Study of Atherosclerosis and Air Pollution welcomes Casey Olives as lead statistician.
Research Scientist Marissa Smith was hired by the Institute for Risk Analysis and Risk Communication.
Professor Harvey Checkoway will be leaving the department after 26 years for a professorship in the Department of Family and Preventative Medicine that begins this fall at the University of California, San Diego.
Peter Rabinowitz will be a new professor in the department, starting September 1.