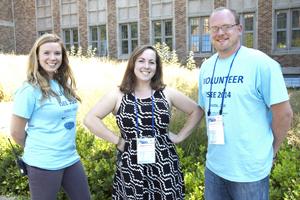 In August, Professor Kristie Ebi joined our department and the Department of Global Health. Her work focuses on understanding sources of vulnerability and designing adaptation policies and measures to reduce the risks of climate change in a multi-stressor environment.
Professor Lianne Sheppard was awarded tenure. Janice Camp retired and is now emeritus principal lecturer; she remains active in the department. Promotions were given to Kelly Edwards—adjunct professor and Sheela Sathyanarayana— adjunct associate professor. Won-Seok Choi, Sun-Young Kim, Anne Riederer, and Mary Schoen were appointed affiliate assistant professors. Grace Lasker was appointed affiliate instructor. Other faculty appointments: Harvey Checkoway —affiliate professor; Jennifer Lincoln—affiliate associate professor; Rodney Hoff—clinical professor; Deborah Havens—clinical instructor.
Environmental Health Research Experience Program students presented at the UW Summer Symposium in August. They were: Paige Bommarito, University of Michigan; Tiffany Chou, Mount Holyoke College; Jeremy Cobbs-Hart, Clark Atlanta University; Megan Davis, Stanford University; Cole Story, Pomona College; Peter Wagner, University of North Texas; Allen White, Texas Southern University. Check out photos from the event.
Associate Professor William Daniell co-authored an op-ed in The Seattle Times on the need for a multi-stakeholder task force to address health issues in the Duwamish Valley.
Graduate student Trevor Peckham did a 10-week Graduate Environmental Health internship at the Centers for Disease Control and Prevention where he worked on a project related to air emissions from US marine ports.
MS student Laura Rascon Padilla tested samples of commercial fish for mercury levels as part of her summer internship at the Washington State Department of Health. The information will help the state advise commercial fishers.
In September, concurrent master's degree student Jonathan Nagata received the "Best Student Poster" award at the International Water Association Specialist Conference on Watershed and River Basin Management.
PhD students Anna Engstrom and David Scoville won first and third places, respectively, for poster presentations at the Pacific Northwest Association of Toxicologists' annual meeting.
In response to a new state law, our Continuing Education Programs offered a course in September for practitioners who work with chemotherapy drugs and other drug therapies on ways to reduce exposures.
Lecturer Richard Gleason appears in a video by the National Independent Contractors Association on the Global Harmonization System of Classification and Labeling of Chemicals under OSHA that will standardize the labeling of chemicals.
Dean Howard Frumkin was asked to serve on the Governor's Council for the Healthiest Next Generation, a new initiative focused on creating environments that encourage children to be active, eat well, drink water, and maintain a healthy weight. He also joined the Seattle Parks Foundation Board to help promote the health benefits of urban parks and green space.
Master's student Jessica Levasseur joined Dean Frumkin on a panel discussion during the SustainableUW Festival on how to address challenges in disciplines like environmental health.
Professor Evan Gallagher presented at the Northwest Green Chemistry Roundtable 2014 on the Molecular Design Research Network, a multi-university collaboration that is designing chemicals and materials to reduce toxicity.
Undergraduate Vadim Motso was featured by the Association of Environmental Health Academic Programs as an "Extraordinary Student."
The Human-Animal Medicine project, directed by Associate Professor Peter Rabinowitz, has a new name and status as the Center for One Health Research. One Health is an integrated approach to human, animal, and environmental health and involves professionals from multiple disciplines.
To better serve students, Undergraduate Program Manager Trina Sterry meets them in two locations—the Health Sciences Building and the new student center in Raitt Hall.
Lorelei Walker (Public Health Genetics) worked with the Center for Ecogenetics and Environmental Health (CEEH) and others to create an animated video on how the environment induces epigenetic change.
Professor Emeritus Michael Morgan received the William D. Wagner Award from the American Conference of Governmental Industrial Hygienists. The award is presented annually to a person in the field of worker health and safety who demonstrates commitment and dedication to the creation and dissemination of occupational exposure values.
PhD student Boris Reiss was selected to participate in the American Industrial Hygiene Association's 2014 Future Leaders Program Institute.
The fall Public Health Café, sponsored by CEEH, featured Associate Professor Edmund Seto, who invents devices to collect data for environmental health research.
Assistant Professor Julia Yue Cui was awarded nearly $1.5 million over five years from the National Institute of General Medical Sciences to investigate how the gut microbiome influences nuclear receptor signaling and how it can also affect the various drug-processing genes in the developing liver.
Students across the Health Sciences were encouraged to read the common book, Fresh Fruit, Broken Bodies: Migrant Farmworkers in the United States, by Seth Holmes. Students continue to participate in activities connected with the book.
Chair Michael Yost and doctoral student Miriam Calkins presented at the annual Pacific Northwest Climate Science Conference on research related to heat-health risks in the region.
In April, our Northwest Center for Occupational Health & Safety will offer a course on chemical design and predictive toxicology. The course is sponsored by Northwest Green Chemistry; Yale University, Molecular Design Research Network; and our department's Sustainable Technologies, Alternate Chemistry-Training and Education Center.
The department's Future of Occupational Health series continues, and a symposium is planned for June 24–25. Learn more.
Alumni News
The Peter A. Breysse Memorial Lecture was given by Joe Coble (MSPH, 1984) at the Northwest Occupational Health Conference in Richland, Washington, with a follow-up lecture in our department on October 16. Coble directs OSHA's Office of Technological Feasibility, Directorate of Standards and Guidance.
Rachel Wood (MS, 2014) is based in Lima, Peru, for a year, thanks to a National Institutes of Health-funded KUSKAYA Fellowship. She is researching climate change risks, focusing on ways that adaptation/mitigation strategies will affect economics, human health, and ecosystem services.