Return to 2017, Issue #1 issue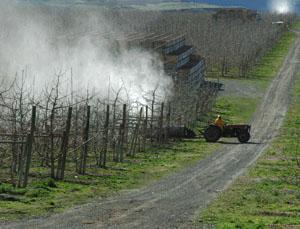 A new study demonstrates that farmworker families have more potential for exposure if they living near apple, peach, cherry, corn, and wheat fields sprayed by organophosphorus pesticides.
Photo:
Courtesy of Jenna Gibbs.
First Study to Employ Cheaper Samplers to Measure Pesticide Exposures Over Long-Term
There are more than a thousand orchards in the Yakima Valley in Washington State and more than half of the farmworker families who work in these orchards are Hispanic/Latino.  They have been concerned by potential exposures to the organophosphorus (OP) pesticides used in nearby fields. Previous studies of these pesticides have been limited to short-term sampling after the chemicals are sprayed due to high costs of more extensive data collection. Now, a study published in the August 2016 edition of Environmental Health Perspectives, confirms that two of the most commonly used OP pesticides are present inside and outside of rural homes, and are found at higher levels outside the homes of farmworkers and homes located closest to fields. The study is the first to use passive air samplers—which are a fraction of the cost of traditional samplers—to measure pesticide levels over a month-long period in both spring and summer.
"We desperately need more data on long-term exposures in rural communities," said Jenna Gibbs, lead author of the study who is a research coordinator for the Great Plains Center for Agricultural Health at the University of Iowa.. "We have shown that the passive sampling method is feasible, and we hope other researchers from around the country will follow suit," said Gibbs. She conducted the study while a PhD student in our department. Gibbs' current research employs passive air samplers to examine levels of other common pesticides used on row crops in the Midwest.
To date, many epidemiology studies in the United States have focused on short- and long-term human health outcomes associated with pesticides, but very few have used air measurements.  The new study is promising, because the passive sampling methods will allow researchers to put out the samplers for one to three months at a time, at a relatively low cost. 
In the Yakima study, the researchers measured both indoor and outdoor air levels of chlorpyrifos and azinphos-methyl, and their oxygen analogs in 20 rural homes.
100 percent of outdoor air samplers and 78 percent of the indoor samplers had detectable chlorpyrifos, a moderately toxic compound linked to neurological effects and developmental disorders.  The study further confirmed previous findings that OP pesticide oxygen analogs are present in the air. This compound is particularly toxic to genetically susceptible individuals.
"It's important that we consider oxygen analogs in risk assessments of pesticide exposure," said Gibbs, "especially if a person spends a large quantities of time outdoors in rural agricultural areas near applied fields."
The highest levels of outdoor pesticides were identified at homes near apple, peach, cherry, corn, and wheat fields.  Although all of the results of those levels in the study were below Environmental Protection Agency (EPA) standards, these are standards for short-term exposure. Very little is known about the long-term effects of continued exposure to these chemicals. 
In addition, pesticide levels found indoors were dramatically reduced.  This was important, because pesticides can last for long periods of time indoors—given that there is no sunlight present to break them down. The researchers observed that during the summer months, residents of the homes were more likely to open their windows.  As a result, there was slightly more infiltration of pesticides inside the homes.
Other authors include Professor and Department Chair Michael Yost, Research Coordinator Maria Negrete, and Professor Richard Fenske.
Financial support for the study was provided by the National Institute of Environmental Health Sciences-funded Center for Child Environmental Health Risks Research and the National Institute for Occupational Health and Safety-funded Pacific Northwest Agricultural Safety and Health Center.