Return to Spring/Summer 2013 issue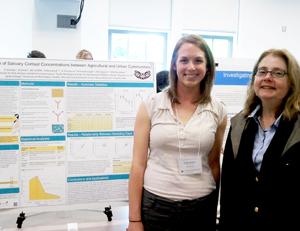 Carly Strecker with Professor Elaine Faustman at the Undergraduate Research Symposium.
Photo:
Courtesy of Carly Strecker.
Indicators of Maternal Stress
Senior Carly Strecker (Biology) has been working in Professor Elaine Faustman's laboratory on a project for the Pacific Northwest Center, National Children's Study funded by the National Institutes of Health. The goal of the project is to determine the potential effect of prenatal exposure to maternal stress on offspring health. In particular, Strecker analyzed salivary cortisol concentrations from samples collected in agricultural and urban communities, as part of a study that aims to identify the best method of assessing stress within and between individuals across socioeconomic, cultural, and ethnic backgrounds. She presented her results on May 17 at the Mary Gates Undergraduate Research Symposium.
Traffic Noise and Air Pollution
MPH student Jill Schulte (Occupational and Environmental Health) found traffic noise and pollution disproportionately affect people with low income and people of color in King County. She analyzed traffic density and demographic data as part of her practicum with King County's Equity and Social Justice Initiative. Her results were reported in Sightline Daily and Real Change News and to county and civic leaders.