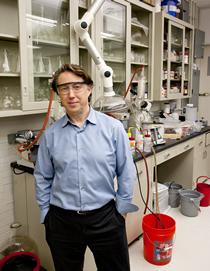 Dr. Paul Anastas.
Photo:
Angelo Lan
Green Chemistry Leader
Paul Anastas, founder of the field of green chemistry, was in Seattle in early May, speaking at our Environmental Health Seminar and at Seattle's Town Hall.
Anastas, director of the Center for Green Chemistry and Green Engineering at Yale University, is credited with establishing the field of green chemistry while working for the US Environmental Protection Agency (EPA).
Green chemistry is often referred to as the process of designing, manufacturing, and using products that eliminate or reduce chemical hazards.
That process is familiar in the field of industrial hygiene, which prefers eliminating hazards from the workplace, rather than protecting workers with personal protective equipment, such as respirators and gloves, says Nancy Simcox of the DEOHS Continuing Education Programs.
Simcox taught in a green chemistry awareness project sponsored by the New England Consortium at the University of Massachusetts Lowell.
The Puget Sound area is beginning to embrace green chemistry, she said, citing companies such as Staples, Boeing, and REI, which find that less-toxic industrial processes and products save money in the long run.
Anastas, who is author (with John Warner) of Green Chemistry: Theory and Practice, takes a broad view, touching on the design of safer chemicals, new reaction conditions, and alternative solvents. An overall goal is to understand the molecular basis of sustainability.
In our department, Professor Terrance Kavanagh is collaborating with UW chemical engineers and material scientists to design safer nanostructures through the UW Nanotoxicology Center. In 2010, Professor Elaine Faustman hosted the first green chemistry roundtable in Washington state in collaboration with state agencies and local hazardous waste management programs. Our department's involvement is designed to build capacity for researching, teaching, and implementing principles of green chemistry statewide.
Anastas visited with DEOHS faculty, students, and staff from May 8–10. On May 9, he led a departmental seminar, "Green Chemistry: Safer by Design," and conducted an interdisciplinary academic workshop for students from different programs across campus. He also spent a morning with staff from the Washington State Department of Ecology to discuss strategies for promoting green chemistry in the state.
The May 8 Town Hall presentation was part of The Seattle Science Lectures, in partnership with DEOHS, Washington Toxics Coalition, and the Sustainable Path Foundation.
Food Safety Expert
Erik Olson, director of food programs at The Pew Charitable Trusts, spoke at the May 2 Environmental Health Seminar. His talk focused on the new Food Safety Modernization Act and other protections for our food supply. He oversees work aimed at improving food safety, strengthening nutrition standards in the nation's schools, and reviewing the US Food and Drug Administration's regulation of chemical additives. In all, he has more than 25 years of experience in consumer, public health, and environmental policy and advocacy. While he was here, Olson met with DEOHS faculty, Dean Howard Frumkin, and colleagues from the Nutritional Sciences program.