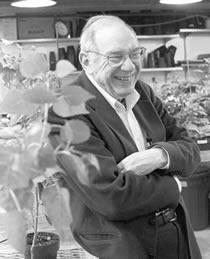 Milton Gordon
Photo:
UW Superfund Research Program
Our department's Superfund Research Program, as it is known today, celebrates a quarter century of research on environmental chemicals and remediation practices for hazardous waste sites.

In 1987, under the leadership of the late Professor Sheldon Murphy, the University of Washington-based program received funding from the National Institute of Environmental Health Sciences.

Our program, like the other university-based research programs, was created to address the scientific uncertainties facing the national Superfund program, administered by the US Environmental Protection Agency (EPA). Researchers from multiple disciplines investigate challenges associated with environmental contamination from Superfund and other hazardous waste sites. The research findings are used to inform decisions made by federal, state, and local agencies, and the centers disseminate results and offer educational programs through community-engagement opportunities.

The research in our program—currently directed by Professor Harvey Checkoway—focuses on biological markers (biomarkers) to predict who might be susceptible to or already affected by exposure to toxic substances that can damage the nervous system.

During our program's long history, there have been a number of notable achievements.
In the late 80s and 90s
Professor Milton Gordon (UW Biochemistry) and Postdoctoral Researcher Lee Newman (UW Pathology, Biochemistry) developed a technique using plants to remediate soil and groundwater contaminated with organic and inorganic pollutants.
Beginning in the 90s
Research Professor Clement Furlong (UW Genome Sciences, Medicine) investigated how individuals may vary in their metabolism of organophosphate pesticides by pinpointing an assay based on "PON1 status." His studies influenced EPA's decision to restrict the use of chlorpyrifos and diazinon.
From the late 90s to 2003
Associate Professor Michael Hooper (Texas Tech University) and colleagues developed biomarkers to determine and assess the effects of chemical exposures on certain birds and mammals. Their work provided an important tool for the US Fish & Wildlife Service in assessing the success of remediation strategies for hazardous waste sites.
From 2004 to today
Professor Evan Gallagher (UW Environmental and Occupational Health Sciences) investigates how chemicals interfere with salmon olfaction—a biological system critical to salmon survival. His findings have helped inform water quality guidelines in Washington state.