Return to 2016, Issue #3 issue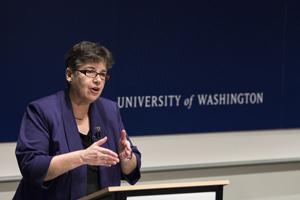 UW President Ana Mari Cauce.
Photo:
Katherine B. Turner / UW School of Public Health.
UW President Ana Mari Cauce launched a new Population Health Initiative on May 3, 2016, when she invited the University community and partners to help develop an ambitious, visionary plan for population health.
"We have an opportunity to help people live longer, healthier, more productive lives—here and around the world," Cauce said in the address at UW Medicine's South Lake Union campus.
Then just this week on October 25, the Bill & Melinda Gates Foundation awarded UW a $210 million gift to serve as a catalyst for the vision for the Population Health Initiative, funding construction of a new building. The building will house several UW units working in population health and be a place for faculty, students, collaborators from across campus, and global partners to come together in their work.
Population health approaches the elimination of disease or other kinds of afflictions for a group of individuals by focusing on the factors that influence health outcomes: medical care and access to that care, climate change, poverty, employment, racism, genetics, social and physical environments, such as clean air and clean water, and many more. These factors are contained within the Initiative's three major pillars: human health, environmental resiliency, and social and economic equity.
The goal of the initiative is to advance the health and well-being of people around the world by building collaborations across campus and leveraging opportunities in five key areas:
Education and capacity building
Diagnostics and critical assessment
Developing and testing innovations
Implementation sciences
Strategy and planning
The ultimate goal of the initiative is to reduce health disparities, tackle the challenges of sustainability, and inspire the next generation of decision-makers.
"Our aspiration is nothing less than to change the world," Cauce said in her May 3 address.
A Population Health Leadership Council will develop an initial set of recommendations by January 2017, followed by a full 25-year vision and action plan.
President Cauce chairs the council, which includes senior leaders, faculty, students and staff representing important contributing colleges, schools, programs and stakeholder units. Professor David Eaton in our department is among the members. He is also dean of the Graduate School and vice provost. 
Together, the council members inventoried existing programs, opportunities, and partnerships related to population health. 

They are soliciting input from faculty, students, and staff through an 11-question survey. The council compiled preliminary ideas and are asking for feedback so that collectively the University's aspirations and ideals are incorporated into a shared vision.
The council is beginning the process of identifying and prioritizing potential projects to undertake across the five focus areas. They are soliciting ideas here.
Also as part of the Initiative, several funding opportunities for undergraduates, graduate students and faculty are being offered.
Learn more about the Population Health Initiative.