Return to 2016, Issue #2 issue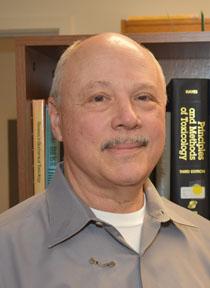 Bruce Kelman supports quarterly functions at UW and a student scholarship, too.
Photo:
Elizabeth Sharpe.
Bruce Kelman's Redmond-based international consulting company, Veritox, takes its name from veritas, the Latin word for "truth." "Veritox" means truth in toxicology; discovering the problem or the true hazard is what he and the consultants who work for him are after in their investigations.

"Almost everything we do is focused on either determining whether exposure to a chemical has injured somebody or trying to figure out how to make sure that people are not exposed to chemicals in a way that injures them," said Kelman, who founded the company in 1998 and who has been connected to the department even longer.

He collaborated on research with our department, and with several faculty, he helped start the Pacific Northwest Association of Toxicologists—the regional chapter of the Society of Toxicology that includes Washington, Alaska, Idaho, Oregon, Western Montana and British Columbia. The organization helps foster scientific exchange through presentations and networking.  

Since he started Veritox, he has hired many of our department's graduates trained in toxicology or exposure science.

"We've found that UW graduates are really good employees," said Kelman, who has a PhD from the University of Illinois and has been certified by the American Board of Toxicology for 35 years. "The UW graduates are really well trained in toxicology and exposure science. One of the things I like about the program is that the industrial hygienists take at least one toxicology course."

Since early 2000, he has also financially supported quarterly functions at the University that bring our faculty and students together. In addition, he provides a scholarship for students studying Environmental Toxicology to attend a professional meeting. Kelman regularly attends the quarterly gatherings at the UW. He considers it mutually beneficial to our department and to him. He has a chance to see and talk with toxicologist colleagues on our faculty and meet new students.

"Frankly, I want to meet [and potentially hire] the best and brightest students who are interested in consulting," he said.

He is enthusiastic about consulting as a career. "We get to work on lots of different kinds of chemicals and environmental agents and with lots of different kinds of people and entities," Kelman explained.

One-third of their work is for litigation and two-thirds is consulting. Their clients may be the federal or state government, a school district, private industry, and even an individual. The consultants investigate a number of chemicals and hazards, including investigating mold and exposures to mycotoxins. The consultants have investigated indoor air quality issues, such as inside airplanes and automobiles and in schools.

In 2010, a K-8 school in Seattle closed after some students and teachers developed headaches, nausea, itchy eyes, rashes, among other symptoms, and the source of the strong smell couldn't be found. The school district hired a team from Veritox to investigate. They found the culprit to be a sealant applied to the cement floors. It's was being degraded into six-carbon chain alcohols by chemicals in the carpet. The alcohols weren't very toxic, said Kelman, just really irritating. The problem was fixed and kids were back in the building by the start of the next school year.

His company has over 50 employees, which include exposure scientists, toxicologists, and an engineering group with material scientists and civil and mechanical engineers.

Kelman will take on another role with the department as the new department's 15-month Master of Science in Applied Toxicology gets underway. He will be among the employers who will provide summer internships for students

He said a variety of industries employ toxicologists. To have a job experience through an internship is a "terrific advantage."

"We're looking forward to that program getting off the ground," said Kelman.