Peter A. Breysse Memorial Lecture
Donations to the Peter A. Breysse Memorial Endowed Lectureship Fund can be made through the University of Washington Foundation.
About Peter Breysse
In memory of Peter Breysse (Dec. 12, 1922–May 10, 2010), his family and the University of Washington Department of Environmental and Occupational Health Sciences are honoring and recognizing his dedication to public health by establishing an endowed lectureship.
Peter Breysse was one of the founding faculty members in the University of Washington Department of Environmental Health and led the development of the Industrial Hygiene program. He chaired the American Conference of Governmental Industrial Hygienists and resolutely worked to advance the profession. Always on the ground floor of emerging issues, he was not afraid to act in the face of uncertainty. A tireless advocate, he found meaning in life by working to improve people's health. Over a 40-year tenure in the profession, he mentored and influenced many students to enter the field, instilling in them and others a drive to improve worker health and safety.
An endowed lectureship in Peter's name will enable the department to recruit speakers to share new ideas and inspire faculty, staff, and students to make a difference.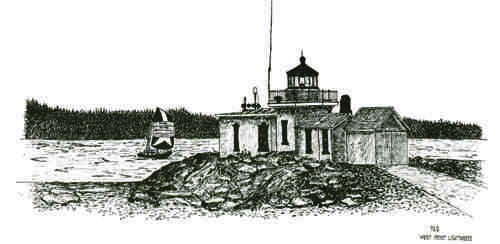 Our department celebrated the first Peter A. Breysse Memorial Lecture on Friday, March 9th, 2012 with a reception and special presentation by his son, Dr. Patrick Breysse, who is a professor and director of the Division of Environmental Engineering housed in the Bloomberg School of Public Health at Johns Hopkins. The March event officially launched the endowed lectureship established in Peter Breysse's name, which will fund speakers to share new ideas and inspire faculty, staff, and students to continue his legacy.
Pen & ink drawing by Peter Breysse.
Indoor Air Quality and Health, Patrick Breysse
Dr. Patrick Breysse recounted events in his father's more than 40-year tenure, recalling "Pete-isms," idiosyncratic adages the elder Breysse would deliver, to showcase his father's candidness and determination to hold his ground in what he believed in order to improve the health of the public. One of these: ""If I think it's bad, it's bad, " bespoke of Peter Breysse's determination to use information and energy to advocate for community and workplace health improvements. Breysse tested hundreds of mobile homes in Washington, Oregon, and Idaho and determined that formaldehyde exposure came from deteriorating particle-board insulation or insulation sprayed under flooring or in some rug materials. Today, low-emission particle board is the norm, and rated by the American National Standards Institute (ANSI) to indicate lower formaldehyde emission levels.
The younger Breysse shared some of his own research that modeled his father's commitment to improving the indoor air quality and public health. He led a community-based study of 150 asthmatic children from a low-income, largely African-American community in Baltimore City, Maryland, to determine sources that contributed to the high rates of asthma. The researchers found nitrogen dioxide from unvented gas stoves and the high rates of mouse allergens compounded asthma rates. With these findings, they are currently advocating to replace gas stoves with electric models and working with local pest management practitioners to focus more attention on the problem of mouse infestation in homes.
Click on the image below to view Dr. Patrick Breysse's March 9 presentation on "Indoor Air Quality and Health" (PDF).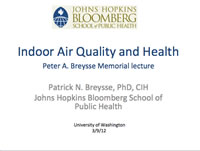 Remembering Peter Breysse
David Kalman, chair and professor in the department, and Steven Hecker, senior lecturer and former director of Continuing Education and Outreach in the department, reminisced about Peter Breysse and the impact he made in the department, on the field of environmental health, and on his students. "He was a great influence on me and generations of people who now practice industrial hygiene in the Northwest," said Hecker who studied with Breysse when he was a master's degree student in the department in the late 70s.
See photos and a slideshow of the event.