Graduate Student Funding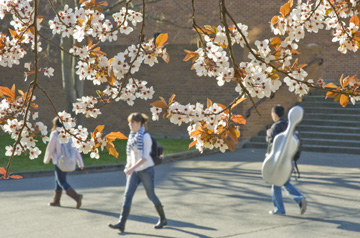 Department of Environmental and Occupational Health Sciences students fund their education through a combination of research assistantships (RAs), teaching assistantships (TAs), and traineeships, as well as fellowships, student loans, savings, and outside employment.
First year RAs, TAs, and traineeships are awarded on a competitive basis based on overall rank in the degree program applicant pool. Second year awards are based on selection of adviser, adequate funding availability, students making adequate academic progress, and fit with funding sources. Irrespective of funding awarded in the first year, all students are responsible for identifying a source of funding for their second year. Students are highly encouraged to apply for fellowships.
Salary and Benefits: These appointments usually include partial or full salary, tuition waiver (excluding student-related fees of approximately $250 per quarter), and medical, dental, and vision benefits through GAIP*.
Types of Support
Research and Teaching Assistantships
RAs are funded by state or federal grant funds. Domestic and international applicants are eligible. The number of quarters available varies each year. These awards carry a work commitment (service expectancy) of 20 hours per week. Students must be full-time (registered for at least 10 credits during the fall through the spring) to be eligible to be paid. Appointees are also expected to abide by the Student Conduct Code and maintain good academic progress.
TA positions are often matched to second year masters and doctoral students. Course instructors can hire students they advise as part of the student's overall funding package. If the department has any unfilled TA slots, these positions will be advertised to all DEOHS students as an "open" TA position and anyone may apply. The hiring choice is made by the course instructor based on the applicants' qualifications (as reflected in a resume).
TA and RA positions currently provide a salary of $1,813# per month, a tuition waiver (minus student fees), and benefits. Doctoral students who achieve candidacy currently receive a salary of $1,993# per month.
Traineeships and Fellowships
Traineeships are available for graduate students who are US citizens or permanent residents.
Students in the Exposure Sciences (MS) and Environmental and Occupational Hygiene (PhD) programs may be supported on a training grant funded by the CDC/NIOSH Education and Research Center training grant (ERC). Students in the Environmental and Occupational Health MPH program who opt for the environmental and occupational nursing emphasis track will be considered for ERC funding.
Doctoral students in the Toxicology program can compete for NIH Environmental Pathology Training Grant funding.
Doctoral students in either the Toxicology or Environmental and Occupational Hygiene degree programs can apply for Biostatistics, Epidemiologic and Bioinformatic Training in Environmental Health funding.
New or continuing students may also apply for individual fellowships, which are primarily funded from federal sources like the NIH, CDC, EPA, etc. However, occasionally there are some available from private sources (foundations, private business, and professional organizations like AIHA, SOT, NEHA, NSF). DEOHS forwards fellowship opportunity announcements to students whenever notices are sent to us. They are also often listed on the department's training opportunities webpage. Another good source of information is the Grants and Information Services Office.
Recruitment Awards
The department has two sources of funding for outstanding first year students:
The Achievement Rewards for College Scientists (ARCS) fellowship provides a total stipend of $17,500 ($7,500 in year one, and $5,000 in years two and three). This stipend is in addition to core funding via RA quarters or a traineeship.
The Top Scholar Fellowship provides a $1,000# stipend in addition to first year support.
The DEOHS Admissions Committee chooses the recipients of both the ARCS and the Top Scholar Fellowship on a competitive basis. ARCS recipients must be doctoral students who are U.S. citizens or permanent residents.
Student Loans
Students without support can find information on loans via Student Fiscal Services.
Occupational and Environmental Residency Program Funding
Questions about funding for the Occupational and Environmental medicine residency program should be directed to the residency program office:
Occupational and Environmental Medicine Residency/Fellowship Program
Harborview Medical Center
325 Ninth Avenue
Seattle, WA 98104
Telephone: (206) 744-9397

* The University of Washington pays for medical, dental, and vision coverage for students with RA, TA, and stipend appointments. Spouses, domestic partners, and children can be enrolled with 50% of the costs paid by the student. The program is underwritten by the MEGA Life and Health Insurance Company and administered by Welfare and Pension Administration Service, Inc. Details of the coverage
# Salary levels listed are current (2012-2013) levels and are subject to change.