Clinical & Public Health Services
Mission
Our mission is to diagnose, treat, and prevent diseases caused or aggravated by workplace and community environmental exposures. We serve as advocates to reduce occupational and environmental risk for patients, labor, management, and community groups.
The Occupational & Environmental Medicine Clinic at Harborview Medical Center offers comprehensive services for the prevention, diagnosis, and treatment of occupational and work-related environmental exposure, illness, and injury. To learn more about the services we provide, visit us at Occupational and Environmental Medicine Clinic.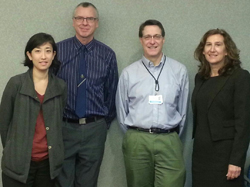 Care Providers:
Joel Kaufman, MD
Debbie Cherry, MD
Debra Milek, MD
June Spector, MD
Sverre Vedal, MD
In addition to standard clinical services, our program offers other services, including:
The Pediatric Environmental Health Specialty Unit provides health care providers, government officials, educators, and families with telephone consultation on health risks associated with environmental exposures.
The Occupational Health Expertise provides health care coordination services to injured workers early in the claims process.
Medical-legal Consultations provide expert medical-legal consultation services concerning a wide range of exposures and illness.
Other Public Health Services
To better serve our community, our program is associated with several other organizations, including:
Washington Poison Center provides immediate, free and expert treatment advice and assistance on the telephone in the case of exposure to poisonous, hazardous or toxic substances.
MEDCON provides toll-free consultation and referral service to WWAMI region.
Northwest Center for Occupational Health and Safety Continuing Education Program offers continuing education courses for workers in safety health, occupational medicine, and environmental health.
Puget Sound Occupational and Environmental Medicine Grand Rounds provides expert Continuing Medical Education (CME) sessions that focus on issues encountered by occupational and environmental health physicians in local, regional, national and international settings.